This post may contain affiliate links. Read my disclosure policy here.

I don't know about you, but Back-to-School season always gets me thinking about self-improvement. And isn't learning another language something that we all wish we could do? I know I do.
My husband and I went to Paris a couple of years ago, and let me say that French is totally over my head. I can't read it, I can't understand it, and they were not able to understand my feeble attempts at speaking it.
However, in high school and college I did fairly well in Spanish, and when I went to the Dominican Republic with Compassion last fall, I was actually able to communicate a bit with some of the children and the interpreters.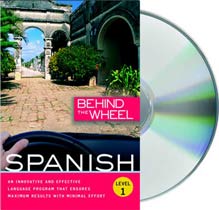 So I requested review copies of French Level 1, and Spanish Level 1 and Level 2 from the Behind the Wheel System, so that I could see how the system worked with a language that I'm totally unfamiliar with, as well as one that I've made a bit of headway in speaking and understanding.
After trying to listen to Behind the Wheel French 1, I've concluded that learning French is not something that is going to happen in my lifetime. I was still befuddled. But my eleven-year-old daughter Amanda has decided that she's going to learn French. She said it will be her own special language.
However, Spanish is another story. I took three years of Spanish in high school and four semesters in college. Until fairly recently, I retained a lot of the vocabulary that I learned — and then old age (and/or Mommy Brain) started stealing my brain cells.
Behind the Wheel Spanish has filled in the gaps!
I previewed Level 1 and Level 2, and I think that there's enough review at the beginning of Level 2, that I probably could have just jumped in with that one. However, Level 1 did not feel overly elementary either.
When my children listened to the Behind the Wheel Spanish 1 with me, they were able to repeat after the instructor and begin to learn the days of the weeks and the months of the year, as well as some phrases with halfway decent pronunciation. Spanish is a bit familiar to them, through Dora and other instruction in school, so that made it easier.
One key feature that surprised me, was that it really felt like a class. The instructor teaches and encourages as if he's sitting right across the table from you. The fact that a native speaker repeats the phrases adds depth to the lesson, and makes it feel conversant. Pauses of a good length are in the CD to give the learner a chance to repeat the phrases. There is lots of repetition, which is necessary to feel comfortable speaking and understanding a foreign language.
Each CD set comes with a booklet that has information about general pronunciation as well as written reminders of the lessons covered within that level.
Would you like to bone up on a foreign language? I recommend Behind the Wheel. There are currently courses available in
Spanish (Levels 1, 2, and 3)
French (Levels 1 and 2)
German (Level 1)
Italian (Level 1)
Portuguese (Level 1)
Arabic (Level 1)

(There are many levels coming soon, and even some new languages!).
Check out a some behind-the-scenes info about what makes Behind the Wheel a great way to learn a language. Download a sample lesson from your choice of languages.
We have Behind the Wheel Language CD sets to give away to three readers. Just look at the programs that are available now as listed above, and let us know which language and which level you'd like to win.
This is open to U.S. and Canadian residents.
This giveaway is part of our 2009 Back To School Giveaway Event. Simply leave a comment on this post to enter (US and Canadian addresses) and, please, be sure to read our Back To School Giveaway rules.
As always, don't forget to earn more entries: subscribe to our Feed, sign up for our 5M4M Newsletter, add our 5M4Giveaways button in your sidebar, write a post and link back to this contest on your blog, and spread the word via Facebook, Twitter, or email! Please see our site's Terms and Conditions of Use for a complete list of our contest and giveaway rules.
Written by 5 Minutes for Mom Contributing Editor: Jennifer Donovan