This post may contain affiliate links. Read my disclosure policy here.
It's coming. That second Sunday in May where we as mothers expect to get what we deserve: a nice lunch and a heartfelt card are reasonable expectations for Mother's Day, and of course chocolates and jewelry won't ever be turned away, but I find that when I am just sitting around waiting for attention to be lavished on me, I generally end up feeling disappointed.
In past years, I've been known to plan my own Mother's Day celebration (not only for my mother and grandmother, but just for me), and that works for me.
My point — Yes, it's nice to receive adoring "thank you's" from my husband and my children, but isn't motherhood really all about our sisters? Those who are in the trenches with us?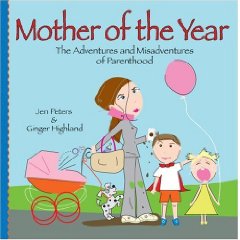 Leisure Arts' Mother of the Year is edited by girlfriends Jen Peters and Ginger Highland. It contains stores from mothers and fathers and even grandparents of the year highlighting the "adventures and misadventures of parenting."
These parents share short stories that will make you laugh and nod in recognition, and are best shared with a friend.
You can buy a copy (for yourself or your own example of Mother of the Year) at a special reduced price at the LeisureArts website.
Speaking of one of my nominees for Mother of the Year–you can still vote for Margaret's Peanut Butter Waffle Taco once a day through February 27 at jif.com.
Would you like to win a special Mother of the Year gift package? One reader will receive the book packaged in a fun canvas bag — and yes, some chocolate as well!
Leave a comment here (U.S. and Canadian shipping addresses). The winner will be announced in next Monday's column and is subject to our terms and conditions and void where prohibited.
The winner of last week's book Thom Filicia Style is #105 Amy.

This post was written by contributing editor Jennifer Donovan, who also blogs at Snapshot and is managing editor of 5 Minutes for Books.