This post may contain affiliate links. Read my disclosure policy here.
I don't know about you, but I feel like my mediocre Mommy moments outweigh my memorable ones.
I've realized over the years that making the leap from mediocre to memorable is not as difficult as I make it out to be. One thing that helps me see this is good friends who show me by their example that a little effort goes a long way.
Last summer, my friend Lee set a goal to be a "Fun Mommy." She tried to come up with some extra creative projects just one night a week. They tried out new cookie recipes, watched movies together, and did other things that appealed to her children.
Last fall she was in the doctor's office and saw a magazine ad for the Jif Most Creative Peanut Butter Sandwich contest, and decided that would definitely make for a Fun Mommy activity. She asked her daughters what ingredients they might want to have on hand to create some healthy and original peanut butter sandwich recipes. That night, they each came up with a sandwich recipe, and Lee entered them into the contest.
She didn't think much about it until she got a phone call months later that her oldest daughter Margaret's recipe was selected as one of the ten semi-finalists! This fun night that they all enjoyed now has the opportunity to pay off with more than good memories. If Margaret's Peanut Butter Waffle Taco gains enough online votes, she will earn $2500 in scholarship money as a semi-finalist. If she wins that spur-of-the-moment Fun Mommy moment will end up being worth $25,000, but even if she doesn't she will enjoy a free trip to New York City to present her recipe to the judges.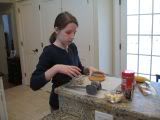 You can vote for Margaret's Peanut Butter Waffle Taco (or one of the other nine finalists) once a day between now and February 27 at jif.com.
All ten recipes are posted on the website. Maybe you could have a Fun Mommy day and make a few of them yourselves. If nothing else, hopefully this will serve as a reminder that in addition to making some memories, following through on impulses can really pay off.
And tomorrow or next week when you have an idea but think that it's too much trouble, perhaps you'll think of the laughter or the "remember when's" from other times that you did make the effort.
I know for me it's as simple as letting my daughter follow through on her impulses — not squashing that naturally creative streak within her. For example, one time we went to a friend's house for dinner. It was a birthday dinner for the dog that her kids always liked to have to commemorate his entry into the family (that sounds like a Fun Mommy if you ask me). We had volunteered to bring some dessert, and Amanda asked if we could make a special cake for Buddy. She took a small square of the cake, frosted it and then adorned it with dry dog food and a beef jerky dog treat candle. Amanda's not the only one who was completely delighted by the sight of beagle Buddy digging in to that cake. My friend and I still laugh about it over a year later.

What are some simple activities that have created million-dollar memories for your children?

This post was written by contributing editor Jennifer Donovan, who also blogs at Snapshot and is managing editor of 5 Minutes for Books.