This post may contain affiliate links. Read my disclosure policy here.
You might have overlooked the Three Stooges Movie Giveaway post because you classify The Three Stooges as the polar opposite of a Chick Flick (maybe a Bro Show?). Well Moe — actor Chris Diamantopoulos — has something to say about it, even though the producers made light of this very fact in the fun promo spot above.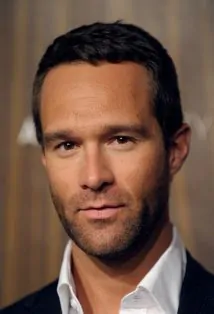 I had the opportunity to interview Chris Diamantopoulos, who plays Moe, and I asked him about this interpretation that the Stooges were purely for guys.  He said yes that is usually true, and maybe their brand of physical comedy does usually appeal to men and kids, but he challenged women.
(Oh, and women, I thought it might help you "listen" to his thoughts more if you could see what he really looks like, so you could take him seriously as a "real man," as opposed to bowl-cut Moe. Back to the interview. . . .)
"I think that another promo could easily say, 'Hey, ladies, want to enjoy some time with your little man and your big man? Here's an opportunity do something that's never been done before — Enjoy The Three Stooges, because, it's not the black and white short that you remember that's just full of smacks, pokes and hits, this actually has a sweet story, and it deals with these orphans that need to be saved, it deals with these three brothers that are going off into the world to do good, and not to mention the fact that I'm sure you ladies love Modern Family and Glee. You get an opportunity to see two of your favorite actresses playing different character types in Jane Lynch and Sofia Vergara."
It's also directed the the Farrelly brothers, which gives this movie more of a boost if you are a fan of Dumb and Dumber or There's Something About Mary.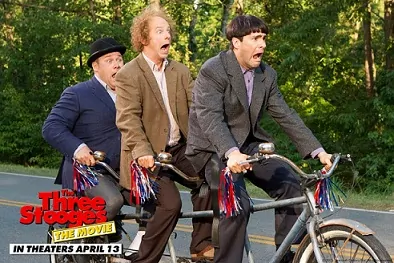 I know I'm convinced. How about you? In fact, I will be taking my little man to see it on Friday after school. I actually love sharing movies with my kids, and Chris summed up why this is such an amazing experience:
Hearing your child laugh at something or gasp at something, or knowing that they're squirming in their seats a little bit because they're kind of moved or embarrassed by something, I think that's the most gratifying experience.
What about the silliness and violent comedy?
Diamantopoulos likened this to the Looney Tunes, but live action, which I thought was a brilliant way to describe this movie and the original short comedies that define the Stooges.  Imagine all the hijinks of the Road Runner and Wile E. Coyote with a little nyuk nyuk thrown in.
"When Bugs Bunny would drop an anvil on Elmer Fudd's head, kids would laugh. And it's because you know that they're cartoons and you know that they're safe and the reaction is funny. With the Stooges, they're real people, but the sound effects keep it all in a safe place."
There's absolutely nothing like that big laugh that comes out of my son when he's really amused. And even if I don't think it's funny, it makes me laugh to see him laugh so hard.
Remember to leave a comment on the Three Stooges Movie Giveaway post to win a $50 Fandango gift card.