This post may contain affiliate links. Read my disclosure policy here.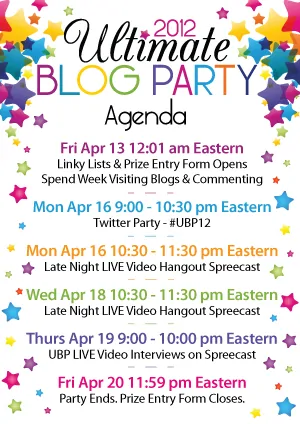 The UBP12 is brought to you by: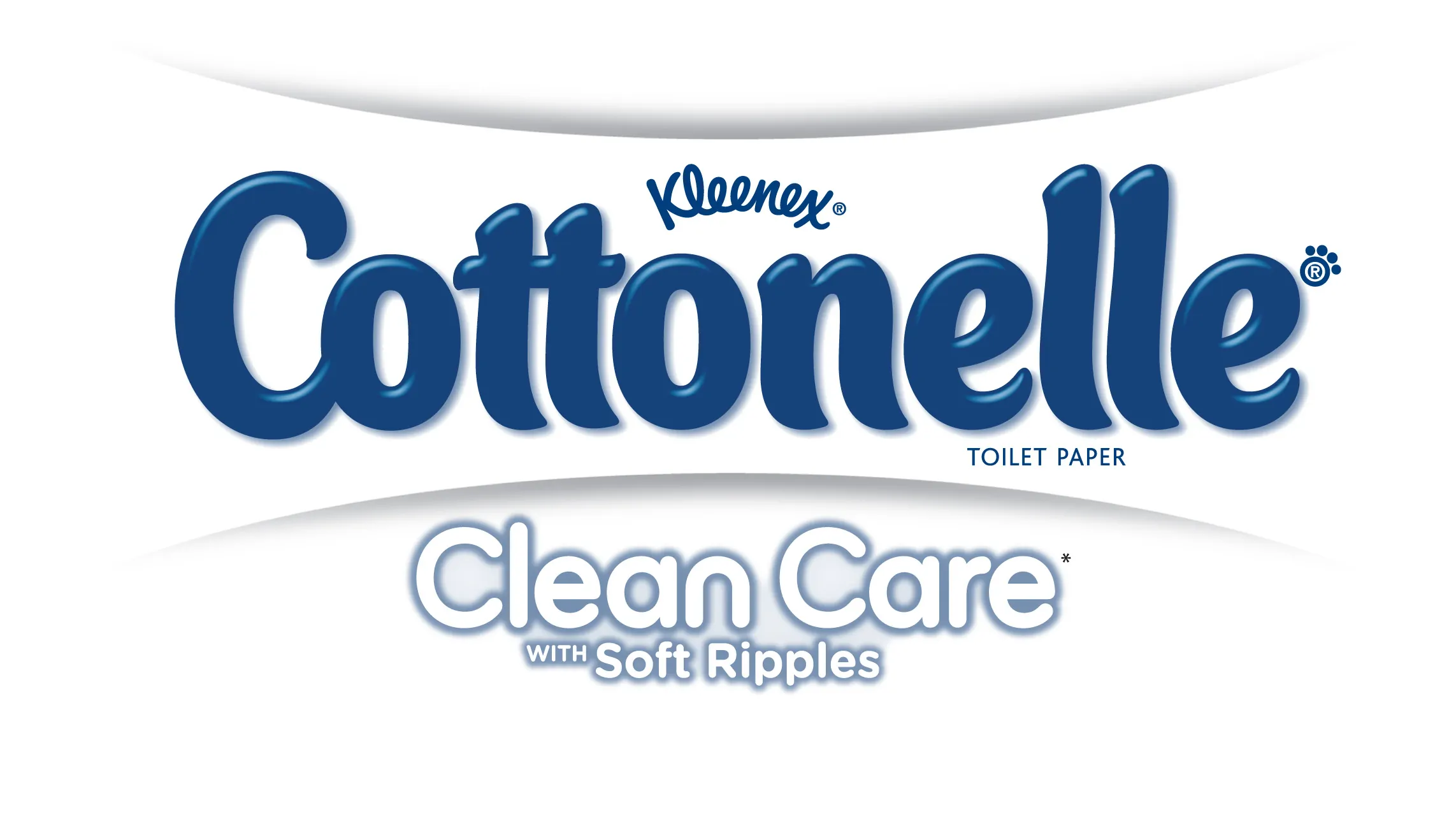 The countdown to the exciting midnight start of the Ultimate Blog Party 2012 has begun.
The UBP12 officially starts Friday, April 13th at 12:01 am.
But don't be fooled by the "Friday"… it really translates into midnight tonight (Thursday) night if you are in the Eastern time zone. Or if you're in the Pacific like we are, it's 9:00 pm Thursday night.
The midnight rush to get your site listed at the top of the Linky Lists is tough for our server to handle, but we've been working with our hosting company Liquid Web to ensure it stays up.
But the fact is that when thousands of bloggers hit our site at the same time, it will slow down somewhat due to the heavy load.
So here's some advice to get the most out of the opening hours of the Ultimate Blog Party.
The UBP is a fabulous way to grow your online community and the more involved you get, the more your friendships will grow. There are steps you can take now before the party opens at Midnight and there are tricks to follow during the event.
How To Prepare Before The UBP Starts
Step 1 – RSVP for LIVE Events
As listed in the agenda image above, we are having FOUR online LIVE events. One Twitter Party and three video chats on Spreecast. RSVP for each of them NOW.
Monday #UBP12 Twitter Party – Monday 9pm Est
Monday Late Night Video Hangout on Spreecast – Monday 10:30 pm Est
Wednesday Late Night Video Hangout on Spreecast – Wednesday 10:30 pm Est
Thursday Live Video Interviews on Spreecast – Thursday 9 pm Est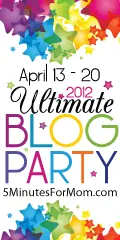 Step 2 – Write Your UBP Party Post
Ensure you have published YOUR UBP Party Post on your own blog sometime before midnight and have the url of that blog post ready to copy and paste. Include a UBP badge or banner to let your readers know that you're joining the party.
Step 3 – Pick Your Linky List
Decide ahead of time which Blog Linky List is the best fit for your blog. There are 8 different blog categories, each with it's own Linky List page.
Also have your Twitter, Facebook Page (NOT personal profile) and Pinterest Page urls ready to copy and paste into those Linky Lists.
You must PICK ONE category to add your Blog link. There are Linky Lists below for the following categories.
You can ALSO add your Facebook Page, Twitter Handle and Pinterest Handle to the Linky Lists titled…
Step 4 – Tweet with #UBP12
Join the Twitter conversation #UBP12 leading up to and during the Midnight opening. We will tweet out status updates if our site temporarily goes down due to the heavy load. If the site does go down, please don't keep hitting refresh. Instead watch the Twitter stream as we will update there.
Tips & Tricks to Get the Most Out of the UBP
Introduce Yourself and Your Blog in Your Party Post
In your party post that you publish on your blog, share a photo of yourself and maybe your family or pets. Tell a little bit about yourself as a quick introduction… think of it like you're at a party and introducing yourself. Consider linking to a few of your favorite posts or those that tell your story.

Be sure to include a UBP badge or banner so that partygoers immediately recognize they are in the right place.

Tweet Your UBP Party Blog Post
During the party many people tweet out their blog post urls using the hashtag #UBP12. That is a great way to engage partiers and get more traffic to your post.

Share Your UBP Party Blog Post on Facebook
You can also share your blog post url and chat with other partygoers on Facebook at the UBP12 Facebook event and the 5 Minutes For Mom Facebook group.

Comment, Comment, Comment
Leave meaningful comments on blog posts and blog hop through the comments left on other blog posts and visit all those who leave comments on yours.


Enter For Prizes
Take your time browsing through the prize pages, but make sure you remember to fill out the UBP 11 Registration and Prize Entry Form. You need to fill out that form with your Twitter handle to be in the running for prizes.
New UBP Navigation Drop-down Menu
To make browsing to the different Linky List pages and the various Prize pages, we've added a new Ultimate Blog Party menu in our top nav bar. You can now get directly to the particular UBP page you want right from the menu as shown below.