This post may contain affiliate links. Read my disclosure policy here.

I'll admit it. I've never seen an episode of the classic Three Stooges, and I could never figure out who did watch it. What exactly is it about that silly slapstick humor that people find appealing? Especially full-grown men??
Well, now I have my own little man, and I'm starting to "get" it. Kyle is almost 8, and though my husband isn't a Stooges fan, physical humor definitely cracks him up. I think the answer to "Why?" is because little boys become big boys, our husbands and friends and fathers.
When I saw the previews for The Three Stooges, I knew that Kyle would enjoy it. He's going to see a preview with me tomorrow night. Today I want to offer you up a chance to win a great giveaway, but stay tuned this week for more coverage, including my thoughts on the movie and an interview with Chris Diamantopoulos who plays Moe.
From the movie studio:
This spring, "3" + "Stooges" = the spring's funniest family movie event: THE THREE STOOGES. Left on a nun's doorstep, Larry, Curly and Moe grow up finger-poking, nyuk-nyuking and woo-woo-wooing their way to uncharted levels of knuckleheaded misadventure.  Out to save their childhood home, only The Three Stooges could stumble their way onto fame, fortune – and starring roles in a phenomenally successful TV reality show.
Visit the official website to play games and Get Stooged!
The film stars Sean Hayes, Will Sasso, Chris Diamantopoulos, Jane Lynch, Jennifer Hudson, Sofia Vergara, Craig Bierko, Stephen Collins, and Larry David and is directed by Peter Farrelly & Bobby Farrelly and is rated PG.
Follow on Twitter  #ThreeStooges
The Three Stooges is coming to theaters April 13.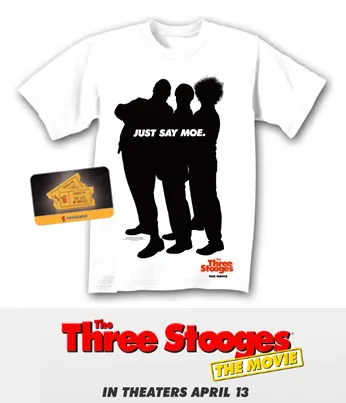 Leave a comment to enter. We'll announce the winners on April 22.
Three (3) winners (U.S. only) will receive:
$50 Fandango Gift Card
Three Stooges T-Shirt
Prizes and other promotional consideration from 20th Century Fox