This post may contain affiliate links. Read my disclosure policy here.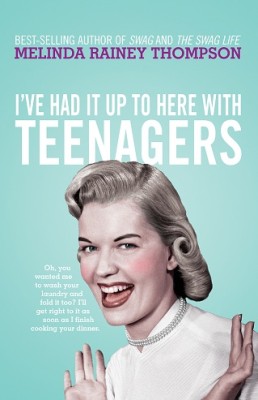 I don't believe that the teen years have to be all bad. Contrary to the title of Melinda Rainey Thompson new book, neither does she. In I've Had It Up to Here with Teenagers, she combines humor in her topical essays about dealing with teenagers, combined with a mother's unconditional, unwavering, and unapologetic love.
She is a self-proclaimed "humor writer," so yes, she uses hyperbole to her advantage, but she uses the humor to dish out practical advice about raising teens.
A modern-day Erma Bombeck
For some reason, back in my teens and early twenties, I actually read a lot of Erma Bombeck. I didn't personally relate to a lot of her topics (like cooking, cleaning, and raising kids), but one thing that I didn't miss was that she was funny. Hilarious.
I am not using hyperbole when I say that Melissa Rainey Thompson is a modern-day Erma Bombeck, and so whether you have teens or not, this book is for you.
By the time my daughter was 9 or so, I began reading books that dealt with teens. I think that it was easier to be objective at that time. I was never sure if they were exaggerating, or if my child would indeed display the self-absorbed, spacey, hormonally-fueled characteristics that seem so common to teens, at least those that parenting writers focus on. But being a little removed, I could actually laugh and I could objectively plan how I was going to react and parent.
I highly recommend this approach. Now that my daughter is almost 14 years old, I am not objective or rational. I find myself acting like a teenager myself.
Topics to Ponder
Like I said — if you don't have a teen, feel free to read along for pure enjoyment. If you do, you have the privilege of learning a little about one mom's approach to these issues, which will either give you some new ideas, or at least cause you to think about your current approach:
Attitude
Money-Matters
"Curfew Conondrums"
"Laundry Laments"
Care and Feeding
Clothing
Driving
Internet Safety
Dating
I've included some of my favorite quotes from I've Had it Up to Here with Teenagers over at 5 Minutes for Books. If you click through and leave a comment over there, you'll get an extra entry (and I promise that in reading them, you'll get a laugh or two).
This book would make a great Mother's Day gift! Treat your friend or your sister or even your own mom to I've Had it Up to Here with Teenagers (as a sort of retroactive apology perhaps?).
Leave a comment here for your chance to win.  We have THREE books to give away, and we'll announce the winner in our book column right here on April 16.
The winner of The Complete Allergy-Free Comfort Foods Cookbook is #16 June.