This post may contain affiliate links. Read my disclosure policy here.
I am in the midst of planning my Easter dinner. Even though it is usually just my husband and two kids, I still like to make them a meal fit for a king during the holidays (since I fail miserably at it during the normal days of the year).
Every year we always have a big spiral ham. I love the ones that come with the crunchy topping pack. It caramelizes atop the ham and creates this succulent taste that will make your mouth water for more.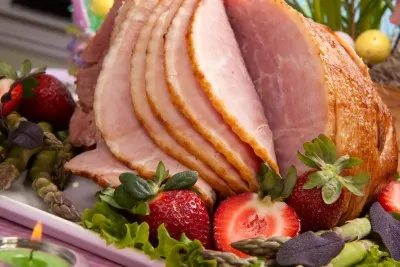 We don't ever eat the entire ham, so I am always on the lookout for new recipes to try that keeps ham as the main ingredient. Thanks to The National Pork Board this year, I have plenty of new ones to try!
This spring, the National Pork Board brings a dose of sophistication to the must-have Easter ham with surprisingly simple recipes and tips.
And for any leftover ham you still have after Easter, they've created new and innovative leftover recipes that will satisfy you and your family for meals to come:
Ham and Brie Baguettes: For a French-inspired lunch, cut open a baguette and fill it with sliced ham, creamy Brie, mixed greens, and a mixture of honey and Dijon mustard.
Ham Reuben: Make your ham sandwich corner-deli style! Combine sliced ham, Swiss cheese, and sauerkraut on rye bread.  Try grilling it for a flavorful twist on this classic.
Ham, Cheddar, and Chutney Quesadillas: For a new take on ham and cheese, fill a quesadilla with sliced ham, shredded Cheddar, and store-bought chutney and heat through until cheddar is melted.
Enter to win a coupon worth $30 towards the purchase of an Easter ham
Use the Rafflecopter below to enter to win this high value coupon worth $30 towards the purchase of an Easter Ham.
This giveaway ends on April 3rd!! We want to make sure you have plenty of time to get your ham before Easter!