This post may contain affiliate links. Read my disclosure policy here.
Please welcome Debra Rutt aka "The Harried Mom" who has a tackle project we can all use!
Toys…One of mom's biggest challenges
One of the biggest challenges any harried mom faces on a daily basis is the battle to keep the house tidy. It seems as soon as I pick up all the toys, books, stuffed animals and various games my two kids play with and put them back in their proper places, they've somehow found their way back out and are everywhere again! I've learned the key to keeping order in any room where kids hang out is to use toy storage furniture. These days, you don't just have to rely on the old stand-by of a toy box, which is where my stuff was kept when I was a kidlet myself. I was amazed at the variety of options of boxes, bins and shelving out there. Here are some that I like the best.
The toy box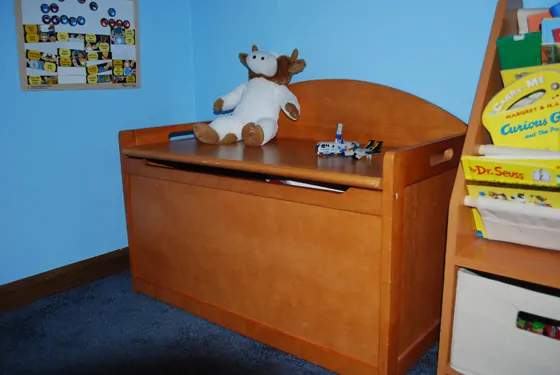 When you think of the words "toy box," this is what generally comes to people's minds. A huge sturdy bin that you can toss everything into and close the lid to hide all the chaos inside. These boxes are low and feature easy-to-open lids, allowing access for toddlers and pre-schoolers alike. The flat lid on this toy box is a bonus, as it provides ample space for stacking games or placing stuffed animals that might otherwise get crushed inside. Both kids and parents can use the flat top for seating as well.
These work well in bedrooms as well as in playrooms. My son has one in his room and it keeps his floor from turning into a crazy obstacle course for me maneuver through.
Sort-it bin units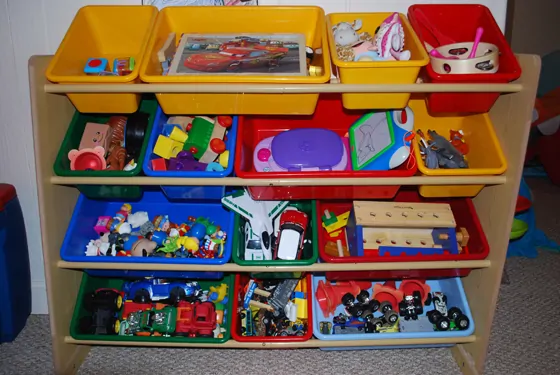 In the kids' playroom we have one of these "sort it" bin units. It features 12 interchangeable plastic storage bins in bright and vibrant colors. Each bin is dedicated to a specific kind of toy: cars/trucks, musical instruments, little people, animals, puzzles, train sets, etc.
All the bins are easily removable, which makes clean up so much easier. You can actually bring the bin to the toys and load them all in instead of taking them one-by-one to the unit. It's also easy for my kids put their toys away in their proper places, so when they look for the cymbals the next time they want to play marching band, they find them quickly. Since there is no "set" place for the bins in the unit, you can place them anywhere you have a space on the rungs.
For extra safety this unit can be toggled to the wall with a standard tip restraint kit, so you don't have to worry about it toppling over on your little ones. This unit also has handles at the top so you can move the whole shebang when it's time to vacuum or re-arrange the room.
While these are great toy storage options, they work best in a child's room or a devoted playroom.
The storage cube organizer
So what about toy storage for a more multi-purpose area like the living room or TV room? A room where, gasp, ADULTS, might congregate and not want to look at piles of your kids' stuff?! In areas such as these, I prefer to put things away where they can't be seen, but still are easily accessible for my kids when they are taking over the room. That's why I love our storage cube organizer. It features six storage cubes where you can place books, toys, games or bins.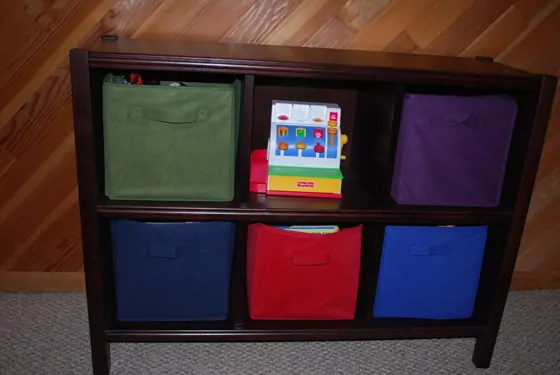 Ours featured five colorful canvas cubes that hold toys, stuffed animals and books. The sixth cube is for usually reserved for the toy d'jour of the moment, the one my kids can't get to fast enough. All the bins have handles on them making it easy for the kids to take them out, get their toys and (hopefully) put them back. It's also easy for mom to scoop up all the toys and toss them quickly in a bin to get them out of the way when company unexpectedly arrives. This is a solid piece of furniture and very durable. It also looks nice in our family room's casual décor and doesn't stick out like a proverbial sore thumb.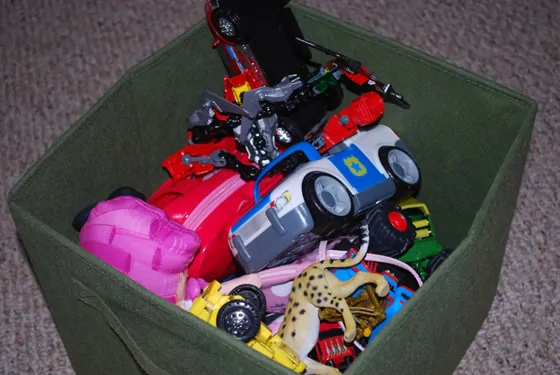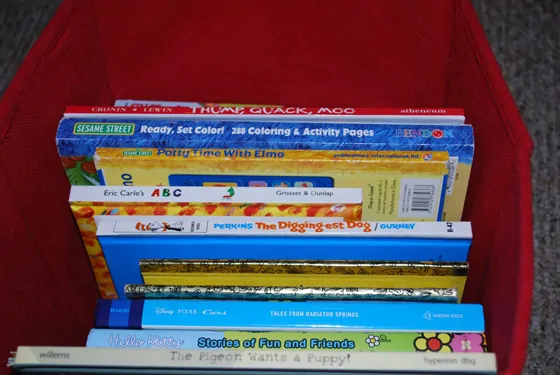 Be creative!
There are so many options for toy organization – and you don't necessarily need to purchase some pre-fab system. If you use your creativity, you can turn items you already have in your home into quick-fix toy storage options. Shoe boxes are great to store Matchbox cars, little people or even dolls. Have an old beach bucket? You could store train tracks, tools or musical instruments in them. What about those plastic zipper bags that bedspreads or sheets come in? Those are perfect to hold lots of little pieces, like building blocks or Legos. As they say, necessity is the mother of invention!
These are great, simple and easy options for having a place for everything and keeping everything in its place.
About the Guest Tackler
Debra Rutt aka "The Harried Mom" is the mom of two kidlets under the age of five and is just trying to safely navigate her way through parenting, playdates, pre-school and a career in entertainment public relations. What she's learned so far is that you have to able and willing to laugh at anything, but mostly at yourself. She writes about kids, family, food, career and all the randomness that goes along with it!
Blog: http://theharriedmom.com
Facebook: TheHarriedMom
Twitter: @TheHarriedMom
Pinterest: TheHarriedMom