This post may contain affiliate links. Read my disclosure policy here.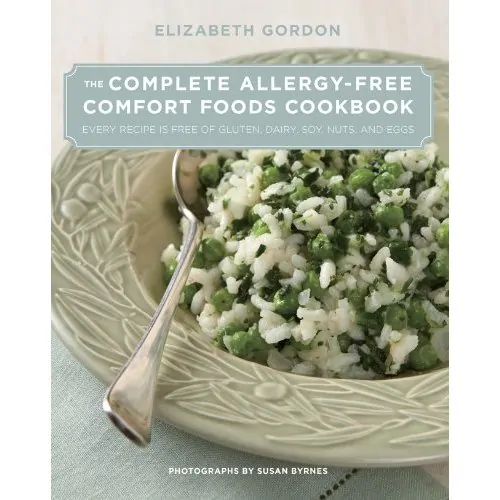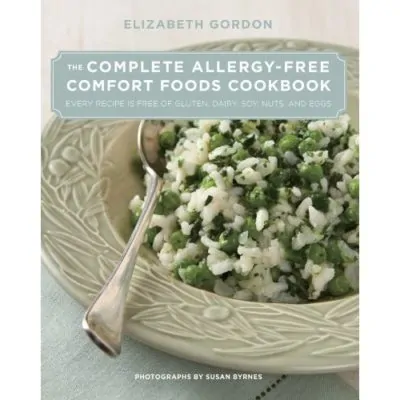 5 Minutes for Books staff reviewer Lauren is the perfect person to review this, as both a booklover and someone dealing with a restrictive diet:
Several years ago, I developed some digestive issues that led to a restrictive diet. I don't eat grains, starches, sugar, or diary. Eliminating these foods has led to dramatic health improvements for me, and I am not alone. More and more people are turning to diet to improve health. Some restrict certain foods because of true allergies, while others (like me) find that they have developed intolerances over time. Either way, many people are looking for recipes that fit with dietary restrictions.
In her new cookbook, The Complete Allergy-Free Comfort Foods Cookbook, Elizabeth Gordon shares classic and contemporary comfort foods that are gluten, dairy, nut, soy and egg free. In the introduction, Elizabeth shares that when she was diagnosed with food allergies as an adult, she initially cooked her own allergy-free meals separately from the food that she cooked for her family. When this became frustrating and tiring, she set out to make tasty allergy-free foods that she could eat and her family could enjoy, like banana bread, buffalo wings, pizza, mashed potatoes, Twinkies, and chocolate chip cookies (I am still in the stage where I often cook separate foods, so I NEED these recipes!). The Complete Allergy-Free Comfort Foods Cookbook is Elizabeth's compilation of these tried-and-true recipes.
This cookbook includes an introduction, a dictionary of ingredients, a chapter on substitutions, and information about where to shop. Elizabeth categorizes her recipes as breakfast goodies, starters, salads, condiments, main dishes, sides and desserts. Each recipe includes a description, an ingredient list, step-by-step directions, and an eye-catching color photo (I love cookbooks that include photos for every recipe!). While some of the recipes are standard, like french toast, pot roast, and fried chicken, I can't wait to try all the fun, kid-friendly recipes like funnel cakes, pigs in a blanket, and a homemade, allergy-free version of a pop-tart! Unfortunately for me, many of the recipes do call for sugar, which I can't have, but they will make many with gluten, dairy, nut, soy, and egg allergies jump for joy!
For those of you who deal with allergies and intolerances daily, finding family-friendly recipes can be a challenge. I recommend The Complete Allergy-Free Comfort Foods Cookbook. For more information, be sure to watch the short trailer.
And if you are interested in winning a copy, please leave a comment. We have a copy to give to one of you! We'll announce the winner in our book giveaway column on April 2.
The winner of Another Piece of My Heart is #11 Fonda.
Lauren is a wife, mother of two, and an avid reader. She blogs at Baseballs and Bows.