This post may contain affiliate links. Read my disclosure policy here.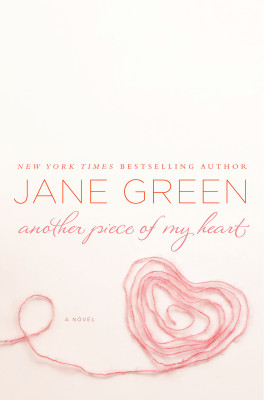 Jane Green is an expert at writing about relationships, especially those among woman, and she's outdone herself with her latest novel, Another Piece of My Heart, where she tackles step-motherhood.
Andi finally found the love of her life in Ethan, and with him came 2 daughters and an alcoholic ex-wife. Emily, the older of the two girls, is spoiled and tends to fits of rage when she doesn't get what she wants. She sees Andi as the woman who just wants to take her dad away from her and makes life in the household difficult at best. Ethan is terrified of Emily's anger and doesn't see how she manipulates him.
Andi is desperate for a child of her own, but because she is in her 40s, getting pregnant is difficult, if not impossible. Ethan does not want to adopt as he's afraid that will upset Emily even more. Andi is at the end of her rope with Ethan's catering to his daughter, and when Emily finds herself in a situation that could be the answer to Andi's prayers in more ways than one, Andi and Ethan disagree on what's best for their family.
The first half of the story is told in third person, mostly from Andi's point of view, with Ethan's perspective occasionally thrown in. But then we hear from Emily, told in diary-style, and since Emily's life revolves around herself the perspective is quite fitting. The 3 main characters are well fleshed out: Andi is not as perfect as she thinks she is, and Ethan is torn between the two women he loves. It's easy to dislike Emily in the beginning but as the book progresses her actions and motives become more clear, and as her relationship with her own mother improves she also grows and matures.
Another Piece of My Heart is clearly women's fiction but it's not fluffy, as it tackles some difficult themes and situations. I recommend this book to anyone who enjoys novels with intriguing and realistic family dynamics.
Notes on the audiobook: Another Piece of My Heart is narrated by the author, and while no one knows the characters better than the one who wrote them, Green's British accent didn't quite fit with the California-based family. If this type of inconsistency would affect your reading pleasure, I would recommend the hard copy over the audiobook.
Jennifer talked with author Jane Green about recording the audiobook, setting, and more. Read more at 5 Minutes for Books. If you leave a comment over there, we'll give you an extra entry in the giveaway.
We have 1 copy of Another Piece of My Heart, signed by the author, for a lucky winner, US only please. Leave a comment and the winner will be announced in our regular book column here on March 19.
The winners of All That I Am are #35 Michele Behlen, #4 tennille, #20 Daniel M.
5 Minutes for Books staff reviewer Nancy writes about her 2 boys, books and life in Colorado at Life With My Boys and Books.