This post may contain affiliate links. Read my disclosure policy here.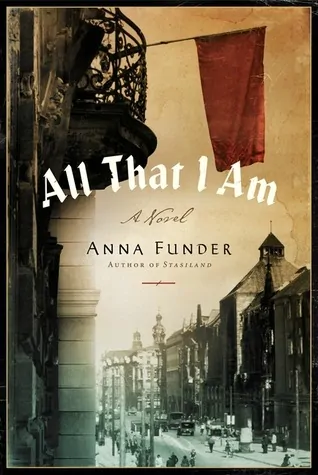 Although All That I Am by Anna Funder is a novel, it is based on the true story of four young Germans (Ruth, Dora, Hans, and Ernst Toller) who fled their country in order to keep raising the alarm about what was happening in their homeland as Adolf Hitler came to power.
Ultimately, it is the story of how an entire world can close their eyes and ears to oppression and danger.
The book opens in 2001 in Australia, where Ruth is living out her days alone. As she faces the approaching end of her life, she is remembering the past more and more. When her doctor tells her she may be losing her sight, she ruminates:
I had very good eyes once. It is another thing to say what I saw. In my experience, it is entirely possible to watch something happen and not to see it at all.
Ernst Toller was a Prussian Jew who fought in WWI, suffered a complete breakdown due to the experience, and later was imprisoned for several years for leading a socialist revolution. In All That I Am, Funder shows him in New York in 1939, where he continued to campaign against the Nazi regime. Despite this outspokenness, there were times in his life when Toller was rendered virtually mute by all that he had seen and heard. Toller says of a fellow resident from the psychiatric hospital, "He addresses me without waiting for an answer, as if being mute were an entirely appropriate reaction to this world."
We learn about Dora and Hans' lives through Ruth and Toller, perhaps giving us an idea of how their stories might end. We see the love between Ruth and Hans, and between Dora and Toller, although their natures and their ideals make the relationships less than traditional.
As Toller recalls his complicated affair with Dora, he reflects, "Our love was like a carpenter's spirit level, each of us holding an end up so hard, fighting to keep that trembling bubble in sight." Hans and Ruth seemed to be a bit more stable, although they all had their secrets.
This book is, first and foremost, a beautifully written novel which draws us in to the hearts and lives of people who lived and loved amidst some of the most horrific circumstances in recent history. It is also an exploration of how a world can avoid seeing or hearing what is happening until it is almost too late to do anything about it.
The exceptional way in which Funder has produced an amazing novel while also opening our eyes and ears to the world of pre-WWII Germany is why I am calling All That I Am a 5-Star Read, just as fellow 5 Minutes for Books reviewer Elizabeth did in her recent review of the nonfiction book Stasiland: Stories from Behind the Berlin Wall by the same author.
We have 3 copies of All That I Am to share with our readers. To enter, simply leave a comment below. We'll announce the winners in this column on March 5th.
A review copy of this book was provided by HarperCollins. 5 Minutes for Books reviewer Trish blogs about autism, books and daily life at In So Many Words.