This post may contain affiliate links. Read my disclosure policy here.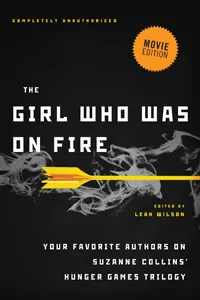 Four out of the ten books on the Amazon Best Sellers list are Hunger Games books. The original book has been in the top 100 for 500 days. I assume it dropped off at some point, but the 2nd and 3rd in the series have been on for around 800 and 700 respectively, which is probably for their entire lifetime in print. Rounding out the list is The Hunger Games Trilogy Boxed Set.
I would imagine that everyone out there has heard of The Hunger Games, in some fashion. At least "I sure hear a lot about this, but I don't know what it is." You might know that the Hunger Games movie releases March 23. You might not know that it's a wildly popular Young Adult series by Suzanne Collins, that has fans from tweens up through adults. You might not know that it's dystopian literature. If you don't know any of this, I'd suggest you brush up, because I think that this movie and these books are going to continue down their path of wild success, and you don't want to be the last one in the know.
It's a popular book, and it's a book that begs to be discussed, or at least thought about. The book The Girl Who Was on Fire (Movie Edition): Your Favorite Authors on Suzanne Collins' Hunger Games Series gives you the chance to do just that.
Are you Team Gale or Team Peeta (or perhaps even Team Katniss?) — you'll find agreement here no matter what side you are on.
Did you like the final installment Mockingjay or hate it? That is explored as well.
Want to explore the political side of the story? Read on.
Feel like comparing the trilogy to other dystopian plots? You can do it here.
Ever wonder the subtext in the amazing costumes created for the Games? Terri Clark can tell you.

Dawn reviewed The Girl Who Was on Fire at 5 Minutes for Books last Spring, so check out her review for more thoughts on the book. This The Girl Who Was on Fire (Movie Edition) contains 3 additional essays, and if you buy the ebook version or the booster pack (containing only the 3 new essays, and the soon-to-be-released thoughts on the movie), you will also receive each of the essayist's thoughts on the movie right after it releases on March 23.
I'm happy that we have a copy to give away to one of you. Just leave a comment if you'd like to win, and we'll announce the winner in our 5 Minutes for Books column here at 5 Minutes for Mom on February 20.

Want more YA? The Dystopian Romance prize pack is still open for another week!