This post may contain affiliate links. Read my disclosure policy here.


Many of the dolls sold today seem as if they were plucked off of Rodeo Drive with their flashy, sexy attire and placed in attention getting packaging to make young girls beg to own one or six. I have quite a hard time finding any desire to purchase for my daughter a doll that is dressed in something that I would NEVER want to see my daughter wear, until she is at least in her twenties.
That's why I was thrilled to discover a wonderful line of dolls, Groovy Girls.
Groovy Girls dolls are sweet, funky and fun. Just like every girl, each doll is unique, and can be customized with hip, changeable fashions and accessories.

Groovy Girls dolls provide a safe, appropriate way for young girls to experience fun, fashion-filled doll play while promoting values and attitudes that are aspirational and age-appropriate.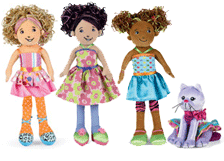 In celebration of the 10th birthday of the Groovy Girls brand, Manhattan Toy is introducing the Groovy Girls RSVP.com Collection, complete with eight dolls and five pets.
With bright colors, fun attire and super cute pets, the RSVP dolls are ready to provide fun play for your daughter. But it doesn't stop there, the RSVP girls are also having an online party. In the virtual world, your daughter can create her own character, decorate her Mod Pod, mingle at the Posh party, practice moves on the Dance Floor, play fun games and much more.
Each Groovy Girls RSVP doll and pet also comes with a special code that will provide your daughter with extra fun.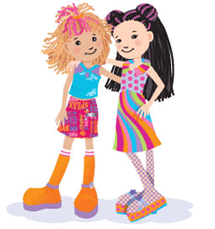 As an RSVP member, your child will:
Receive access to exclusive online RSVP Parties and games
Use the Creation Station to create hundreds of new outfits
Get extra Groovy Girls Tunes to play – and download!
Be able to earn Party Points – and receive digital rewards!

And, with an RSVP Doll or RSVP pet your child could also:
Add Her Doll's outfit added to her Closet, Creation Station and Dance Floor
Have Additional items added to her Creation Station
Added her doll's song to her Mod Pod and Dance Floor
Chat with her Doll on her Groovy Girls Laptop-what fun!
Call her pet to her Mod Pod any time,
Play with her pet and show off super-cool tricks,
Mix and match a t-shirt from her pet in the Creation Station – and wear it wherever!

GroovyGirls.com is designed to entertain and engage girls between the ages of four and ten. It's free for everyone to join the site, whether your child owns a Groovy Girls Doll or not.
To add to the fun, Manhattan Toy is providing one reader with a complete Groovy Girls RSVP set of 8 dolls and 5 pets, retail value, $185.00.

Manhattan Toy also generously donated a complete set to our Under the Tree Program.
Here's how you can win:
See our Christmas Giveaway 2008 post to read more about
participating in our Christmas Giveaway

Either link back to this post and include a Christmas Giveaway 2008 button in that post or on your sidebar, or link to the individual giveaways you choose to enter. We have a ton of different buttons and styles for you to choose from. Click here to get the button codes. (If you post and include the button, either in your post or on your sidebar, and link back here, you are good for all the giveaways. No more linking required.)
Please leave one comment below to enter this giveaway. You may earn additional entries for the following:
1. Subscribe to our Feed
2. Sign up for our Newsletter
If you are already subscribed and are on our newsletter list, you qualify for these two additional entries. Go ahead and leave your additional comments below.
As always, non bloggers are welcome to participate! We understand you can't link – but please spread the word to your friends via facebook, twitter, etc.
Entries are open from Saturday, November 22nd through Friday, November 28th at 12pm EST.
Our winner will be drawn randomly and we will announce the winner Monday, December 1st. Please make sure to check our site and your email address to see if you have won a prize. We must receive your reply within 5 business days. (If you want your prize to arrive in time — the sooner we hear from you, the better!)
This contest is open to US shipping addresses. Due to legal restrictions, this promotion is not available in Arizona.

Please see our site's Terms and Conditions of Use for a complete list of our Contest and Giveaway Rules.