This post may contain affiliate links. Read my disclosure policy here.

Hannah Montana and High School Musical have taken the tween scene by storm. This Christmas we have two Fun gifts sure to please that Disney, music loving age group: Hannah Montana and High School Musical DVD Games.
This unique interactive experience is packed with hundreds of exciting options to pump up the party and have everyone on their feet for a singing and dancing event like no other. Best of all, a DVD player and a remote control are all that are needed to enjoy this year's perfect holiday gift!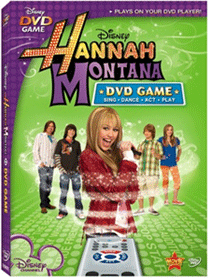 The Hannah Montana DVD Game allows fans to play as their favorite Hannah characters as they take center stage at a virtual Hannah Montana concert with "Pop Star, audition for Hannah's band in the "Band Audition" drum game, learn the hottest new dance moves in "Dance Off" and re-live all the most memorable moments from the series with clips, pictures, trivia games and puzzles.
BFFs will want to take the friendship quiz to find out if they are True Friends, or use the Party Play option to tackle team games like charades, as well as drawing and describing puzzles.
This unique interactive game will have everyone singing, dancing, drawing and acting for hours on end.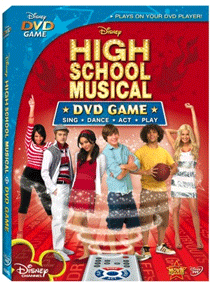 With the High School Musical DVD Game, take center stage as you and your friends perform songs from every High School Musical movie! Engage in dance-offs with your friends to the hippest tunes! Test your skills in hoops as you slam-dunk to success!
All this, plus hours of out-of-your-seat challenges and games that will test your High School Musical knowledge to the limit! The party starts here with 11 action-packed games you can play again and again
Enjoyable for single players, one to four multiple players, or two teams of two or more, the DVD Games are sure to become a slumber party staple.
Lucky you, we have both to give away to one lucky winner. Both DVD games were also donated generously to our Under the Tree Program.
Here's how to win the Hannah Montana DVD Game, retail value $29.99 and the High School Musical DVD Game, retail value $29.99:

See our Christmas Giveaway 2008 post to read more about
participating in our Christmas Giveaway

Either link back to this post and include a Christmas Giveaway 2008 button in that post or on your sidebar, or link to the individual giveaways you choose to enter. We have a ton of different buttons and styles for you to choose from. Click here to get the button codes. (If you post and include the button, either in your post or on your sidebar, and link back here, you are good for all the giveaways. No more linking required.)
Please leave one comment below to enter this giveaway. You may earn additional entries for the following:
1. Subscribe to our Feed
2. Sign up for our Newsletter
If you are already subscribed and are on our newsletter list, you qualify for these two additional entries. Go ahead and leave your additional comments below.
As always, non bloggers are welcome to participate! We understand you can't link – but please spread the word to your friends via facebook, twitter, etc.
Entries are open from Saturday, November 22nd through Friday, November 28th at 12pm EST.
Our winner will be drawn randomly and we will announce the winner Monday, December 1st. Please make sure to check our site and your email address to see if you have won a prize. We must receive your reply within 5 business days. (If you want your prize to arrive in time — the sooner we hear from you, the better!)
This contest is open to US shipping addresses. Due to legal restrictions, this promotion is not available in Arizona.

Please see our site's Terms and Conditions of Use for a complete list of our Contest and Giveaway Rules.