This post may contain affiliate links. Read my disclosure policy here.


It is getting chilly out. This morning I woke up to my oldest daughter hollering that it was snowing. I don't know about you, but as the months get colder, my skin gets drier. I suffer from severely chapped hands and lips during the winter months. I was recently sent a product, however, that has been spoiling me. It works amazingly well and I love it.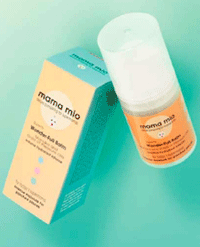 This is Wonder-Full Balm by Mama Mio. It is intense moisture for parched places. You can use it on your lips, heels, elbows, knees, hands, ANYWHERE. It can even help to heal little burns.
Nine natural oils in a beeswax base form a solid oil that melts in contact with your skin, creating rich, intense moisture.
I love how quenched my skin feels when I use the Wonder-Full Balm. I also love how great it smells. It is such a fun pampering product for moms. And WE NEED pampering!!!!

Mama Mio's skincare for supermamas offers a wide range of products perfect for moms and moms-to-be. They are loved by many, including some of today's hottest stars.
Tummy Rub Butter is a favorite of Christina Aguilera's and Jessica Alba told People Magazine, "I've been using Mama Mio… it smells yummy."
Mama Mio is in over 700 stores in 8 countries and 100 of the most toe-tingling spas.
Every product is designed to help the everyday body concerns of Supermamas everywhere. From their O Mega Body Oil to their See-No-Scar-Solution, Mama Mio has the product for you. And one of the best things, besides how great they work, is that Mama Mio promises that their products are nasty free, helping to keep you safe and sound.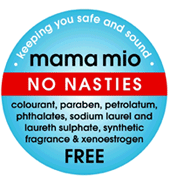 Their super-moisturizing products are effective because of the high levels of Omega 3, 6 and 9 (nature's superheroes at improving skin strength and elasticity).

Their repair and maintenance products are packed with the very best ingredients science and nature have to offer at the highest levels recommended; this means that if you use them correctly, they will actually work.
This Christmas, why not treat yourself to some Mama Mio. You're a supermama and you deserve it!!!
We have one Wonder-Full Balm to give away to one lucky reader, retail value $26.00. Mama Mio has also generously donated one Supermama Kit to our Under The Tree Program.
Would you like a chance to win yourself a refreshing Wonder-Full Balm?
Here's how to enter:
See our Christmas Giveaway 2008 post to read more about
participating in our Christmas Giveaway

Either link back to this post and include a Christmas Giveaway 2008 button in that post or on your sidebar, or link to the individual giveaways you choose to enter. We have a ton of different buttons and styles for you to choose from. Click here to get the button codes. (If you post and include the button, either in your post or on your sidebar, and link back here, you are good for all the giveaways. No more linking required.)
Please leave one comment below to enter this giveaway. You may earn additional entries for the following:
1. Subscribe to our Feed
2. Sign up for our Newsletter
If you are already subscribed and are on our newsletter list, you qualify for these two additional entries. Go ahead and leave your additional comments below.
As always, non bloggers are welcome to participate! We understand you can't link – but please spread the word to your friends via facebook, twitter, etc.
Entries are open from Friday, November 14th thru Friday, November 28th at 12pm EST.
Our winner will be drawn randomly and we will announce the winner Monday, December 1st. Please make sure to check our site and your email address to see if you have won a prize. We must receive your reply within 5 business days. (If you want your prize to arrive in time — the sooner we hear from you, the better!)
This contest is open to US and Canadian shipping addresses. Due to legal restrictions, this promotion is not available in Arizona or Quebec.
Please see our site's Terms and Conditions of Use for a complete list of our Contest and Giveaway Rules.