This post may contain affiliate links. Read my disclosure policy here.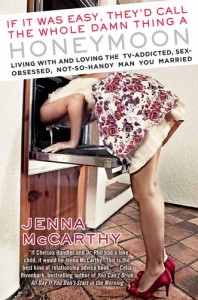 Ready to laugh?
Jenna McCarthy (not to be confused with a similarly named Jenny) is ready to deliver almost 300 pages of gut-busting-laughter inducing insights in her new book whose title itself had me giggling before I even opened to page one — If It Was Easy, They'd Call the Whole Damn Thing a Honeymoon: Living With and Loving the TV-Addicted, Sex-Obsessed, Not-So-Handy Man You Married. Sure, it's a mouthful to say, but trust me, this book hit my funny bone again and again.
McCarthy's astute observational skills come together with her natural wit and penchant for dropping an expletive when called upon, and she's here pointing out all the aspects of marriage that are too often overlooked in those "relationship" books.
I love her realistic take on marriage, and the first instance of a dog-eared page for me came with this statement she makes about the challenges that marriage can bring:
"The problem isn't him, and it's not you. The problem is attempting to live in excruciating proximity with another full-size person who can't read your mind and also isn't a carbon copy of you."
Right?! Now, the love that I have for my husband is unquestionable and he's been my partner in life for almost half of my life. That doesn't mean that I don't have a laundry list of things that drive me batty about him, too.
Thankfully, McCarthy is the kind of person who understands that sentiment, and she can write about her darling husband in a way that acknowledges the love she has for him and the insanity that she feels at some aspects of their life.
Here in bullet form are some additional topics that were worthy of a folded corner:
the correlation between housework and sex in a marriage
Male Pattern Blindness, which you might experience when you hear your husband say, "Honey, where is [fill in any household item]
the joys of sharing a bathroom with your husband
female friendships vs. male friendships
prepping for a family trip, also known as one person planning for days and packing for self and children, while another person "throws some things in a bag" minutes before getting in the car
Seriously, I could go on and on, this book had me laughing so hard that I dog-eared at least half of it! Be prepared for (what I deem) a healthy dose of profanity, a mess of bordering-on-TMI declarations, and a barrel of laughs. There were moments during this reading where I was stared at on the bus (the cover image is awesome) and other times when I had to close the book to just put my head into my hands out of sheer relief that I am not alone in my perceptions and experiences in marriage.
If It Was Easy, They'd Call the Whole Damn Thing a Honeymoon is the book I'll be giving to all my friends who I know will appreciate the humor and perspective!
If you've got a few minutes and want to laugh, you have to check out Jenna McCarthy and her hubby in the official book trailer, guaranteed to make you laugh!
If you want in on the hilarity, please leave a comment here to win one of two copies of If It Was Easy, They'd Call the Whole Damn Thing a Honeymoon. Open to U.S. and Canada residents. We'll announce the winners on 10/31.
5 Minutes for Books reviewer Dawn loves her husband and children more than she can express, even if they all seem to drive her crazy. The fun of their lives is often chronicled on her blog, my thoughts exactly.