This post may contain affiliate links. Read my disclosure policy here.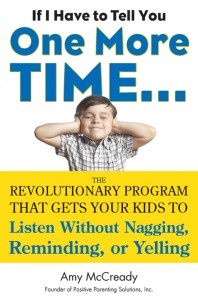 I'm sure there's not a mom out there who hasn't read a myriad of parenting books. You might have even read your first one (or three) when your little one was in the womb! Whether it's information on how, when, or what to feed an infant and toddler, potty training, discipline, sleep issues, socialization, special needs — we are all looking for the magic bullet that will help us raise our kids right. If only just reading a book would make the magic happen — unfortunately, we have to follow through and actually put the tips into practice.
I think that Amy McCready's If I Have to Tell You One More Time. . .: The Revolutionary Program That Gets Your Kids To Listen Without Nagging, Reminding, or Yelling was tailor-made just for me! Unfortunately, my ugly yelling side rears its head quite often in parenting, and it's usually because I'm tired of nagging and reminding.
McCready's style is very accessible. Each chapter provides toolbox solutions, which are strategies that you can implement right away. They suggest ways to deal with conflict, ways to respond to disobedience or repeated misbehaviors. They suggest how we can respond or what we should do in certain situations in order to keep our cool and maintain control.
If you are familiar with parenting philosophies that encourage parents to give logical consequences to misbehavior while staying cool and calm — this is very similar. Everything McCready says makes sense and doesn't seem too out-there or hard to implement.
I would say that this book is best for parents of school-aged kids (age 6 and up). I have a 7-year-old son and a 13-year-old daughter, and the situations and struggles spoke right to my family.
I have honestly seen a change in the way I respond to my kids after reading If I Have to Tell You One More Time. . .. I can't say that I don't nag, remind or yell ever, but I feel like I'm reacting in a way that will benefit their long-term development and my goal of helping them to become responsible adults.
I am very happy to be able to give away a copy of this book to you. Please leave a comment if you'd like to win (U.S. shipping addresses only). We'll announce the winner in our weekly book column right here on October 24.