This post may contain affiliate links. Read my disclosure policy here.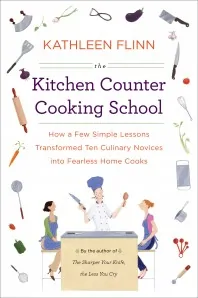 Author and cook Kathleen Flinn was intrigued one day in a supermarket, as she watched a woman fill her cart entirely with processed food—frozen meals, dinners in a box, etc. She started talking to her and realized the woman was completely intimidated by her kitchen, and didn't trust herself to know how to roast a whole chicken or prepare a sauce for pasta.
From this encounter, a cooking class was spawned. Flinn found volunteers who let her into their kitchens, where she inventoried their pantries and fridges and ate a meal they prepared for her (one woman served frozen lasagna and something she called White Trash Garlic Bread, bread spread with margarine and sprinkled with garlic salt). They agreed to come to a class teaching basics of cooking.
The Kitchen Counter Cooking School follows the 9 volunteers into their kitchens and we learn a little of their relationships with food. It's interesting to note how often their own mother's attitudes toward cooking is reflected in these adult women; for example, one woman's mother wouldn't let her in the kitchen at all, and the woman lacked any confidence that she could successfully chop an onion, much less make a cake from scratch or dress a salad.
Flinn ropes in several friends and acquaintances to help teach the class, and each brings their own expertise and flair to the various lessons. As Flinn discusses what each class covers, her readers learn too—about nutrition, processed food, and more.
Read more about how moving to Africa made me rely more on cooking from scratch and how I've changed now that I've moved back to the U.S. over at 5 Minutes for Books.
Flinn's class devotes an entire evening to salads and dressings. Not only are home-made dressings cheap and easy, they are better for you, and you end up wasting less food. That's another theme that comes up in the book—how much food Americans waste (we tend to shop how we will ideally eat, and then throw away crispers-full of fruit and veggies.) The point is, cooking yourself is not only cheaper, healthier, and better for the planet, it also tastes better!
In Morocco, getting bread was easy. We had a bakery a 2-minute walk away, and I would send the kids to pick up fresh warm baguettes for about 50 cents. I miss that! But one of the best things about The Kitchen Counter Cooking School is that readers practically experience the classes themselves; each chapter has recipes and simple instructions. The volunteers learn to make something called "No-Knead Artisanal Bread." The recipe is unbelievably simple. I'm planning to make some tonight.
Flinn visits the participants several months after the class has ended to see what, if any, changes were permanently made. She finds that the women have new-found confidence, that they tackle new recipes without fear and that overall, they are eating healthier.
There are lots of things to take away from the book, even for someone like me who sometimes has too much confidence in the kitchen (just ask my kids. I'm not afraid to experiment). I'm already rethinking how I use (or don't use) leftovers, and how I can cut down on waste and expand my repertoire. I'm looking forward to trying some new recipes. And I'm inspired to make some changes that I hope will last.

Please leave a comment here if you'd like a chance to win this delightful book and a magnet (U.S. shipping addresses only). We'll announce the winner on October 17.
5 Minutes for Books team member Elizabeth loves to cook and you can kind of tell just by looking at her. She is raising kids who are fearless in the kitchen, and leave messes to prove it. Read more at her blog Planet Nomad.