This post may contain affiliate links. Read my disclosure policy here.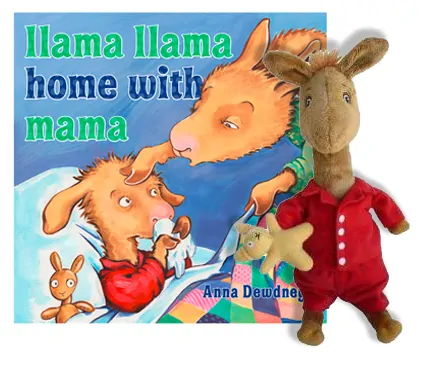 Poor little Llama Llama, he woke up feeling not so good, and has to (gets to?) stay home with Mama Llama until he's feeling better. Mama takes good care of her little llama, and he's feeling better after a nap. Unfortunately poor Mama is also coming down with a cold, so Llama Llama decides it's his turn to be the caregiver.
The Llama Llama books are so cute and tons of fun. We love the way his tongue pokes out when he realizes he's sick, or when he's concentrating, or when he has to take the gucky medicine. There may even be a "bleh" kind of sound that goes with it in our house. There's also the obligatory "freak-out," although with the subject of runny noses, it's not the most pleasant of spreads. But of course that's why kids will love it!
Llama Llama Home with Mama is a bit calmer than previous books but I think the subject lends itself to a quieter presentation. The pictures, done on canvas, are a little more muted, but still provide the perfect background for the story. Kids will sympathize with Llama Llama, both with his illness and boredom.
Penguin is providing us with a wonderful package for (1) winner (U.S. address only), who will receive a copy of Llama Llama Home With Mama, PLUS every other title in the Llama Llama book series (4 additional titles), AND the adorable Llama Llama Plush! Leave a comment to be entered to win. The winner will be announced on October 3.
Check at Dawn's post over at 5 Minutes for Books today encouraging parents and kids to Read for the Record (and telling you how you can get a free copy of another Llama Mama book!).
The winner of Yankee Doodle Dixie is #25 Suzanne.
5 Minutes for Books staff reviewer Nancy admits to enjoying the downtime that comes with sick kids. She writes about her 2 boys, books and life in Colorado at Life With My Boys and Books.