This post may contain affiliate links. Read my disclosure policy here.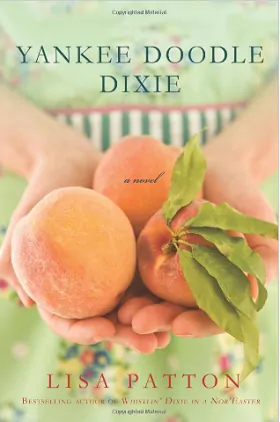 It may be September, and fall may be right around the corner, but it's never too late for a good beach read, and Yankee Doodle Dixie is a fun, easy read that fits the bill.

Yankee Doodle Dixie is the second book by Lisa Patton about Memphis gal Leelee Satterfield. In the first book, Whistlin' Dixie in a Nor'easter, Leelee follows her husband Baker to Vermont to open an inn. Yankee Doodle Dixie begins with Leelee and her 2 daughters heading back home to Memphis, sans Baker, to start over with her 3 best girlfriends and her surrogate mama Kissie supporting her every step of the way. But not only did Leelee leave behind the cold Vermont weather and the inn she worked hard to whip into shape, but she also left behind a man named Peter, her restaurant's chef to whom she had grown close. She rents a house next door to a Tupperware-Cutco-Pampered Chef salesman named Riley, who's a bit too interested in her life, gets a job at a Memphis radio station and has to put up with an overbearing boss, and tries to get over Peter.
If it all sounds a bit crazy, well, it is. There's a whirlwind trip to NYC with a rock star, a visit to Graceland during Elvis Days, dressed in full regalia, and a boy dog named Roberta. Leelee has trouble saying no, but with the help of her friends and Kissie, she learns to start standing up for herself and work toward what she wants, and not what everyone else wants.
While Yankee Doodle Dixie is a sequel, and I'm not usually one to read a sequel without having read its predecessor, the book stands on its own. There's enough backstory scattered throughout the novel that I never felt lost, and even felt like I don't really need to read the first back to understand the gist of what happened. If you like Southern fiction, books with characters that are a little off-kilter, or just want a fun late-summer diversion, you'll love Yankee Doodle Dixie.
We have one copy of Yankee Doodle Dixie to give to one lucky reader (U.S. only). Leave a comment below to enter to win. The winner will be announced on September 19.
Congratulations to our winners of the Ladybug Girl giveaway: #5 Steph Lancione and #46 Brett.
Nancy likes reading about characters whose lives are nothing like her own. She writes about her 2 boys, books and life in Colorado at Life With My Boys and Books.