This post may contain affiliate links. Read my disclosure policy here.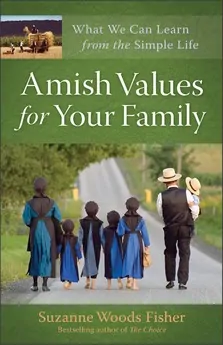 I have a type-A personality, and I like being busy. I also appreciate the modern conveniences that make my life easier and keep me connected. But, I admit that busy schedules and fancy gadgets can get in the way of what's really important. In her new book, Amish Values for Your Family, Suzanne Woods Fisher explores the lessons that modern families can learn from the "plain" lifestyle.
In each inspiring and practical chapter, Suzanne Woods Fisher shares anecdotes from real Amish families "to help prioritize what's truly important, to simplify decision making, to slow down as a family, to safeguard time together, and when age-appropriate, to let go." The chapters are organized into four sections: Children are Loved but Not Adored, Great Expectations, Daily Bread, and Letting Go. In addition to the anecdote, each chapter also includes an Amish proverb, a "Road Map" section filled with practical application, and quotes.
This is a book to be savored. I enjoyed reading one or two chapters a day and taking the time to reflect on my own life and family. With every passing year, time seems to move more quickly, and I want to cherish each day. I also want to build strong relationships with my children and prepare them for the future. I admit that in my own busyness, I often try to handle everything myself, rather than taking the time to involve my children in the tasks at hand. I especially appreciated the stories that reminded me how much is gained when parents allow their children to work with them.
Suzanne Woods Fisher's appreciation of the Anabaptist culture can be traced to her own family's roots. Through her novels and Amish Values for Your Family, Suzanne shares her interest and provides life lessons for all of us. From time to time, we need reminders like these, and I recommend this book. Few of us would choose to adhere the Amish lifestyle fully, but we can live by its basic principles if we are purposeful and determined.
If you would like to win one of two (2) copies of Amish Values for Your Family, please leave a comment on this post. We'll announce the winner in this column on August 29. This Giveaway is Closed.
The winner of The Available Parent is #14 Rita.
Review by 5 Minutes for Books contributor Lauren. Lauren is a wife, mother of two, and an avid reader. She blogs at Baseballs and Bows.