This post may contain affiliate links. Read my disclosure policy here.
Review by 5 Minutes for Books contributor Dawn Mooney: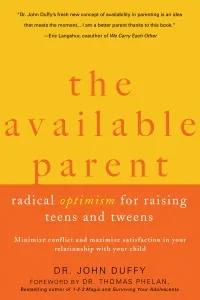 Ever since my firstborn was a wee infant, I have felt a twinge of terror whenever I thought ahead to what the teenaged years would be like. Eleven years later, my husband and I are beginning to notice the tell-tale signs that the days of raising a teen will soon be upon us– the sullenness that appears out of nowhere, the "attitude" that I clearly remember my own mother repeatedly pointing out in my adolescent behavior.
Though I've read my fair share of parenting books that address the younger years, I don't have a lot of experience with books for parenting older children. I'm quite pleased to have read Dr. John Duffy's new book, The Available Parent: Radical Optimism for Raising Teens and Tweens, which offers a guiding light for this time.
I took away a few key points from Dr. Duffy's logical wisdom, and while they weren't new concepts by any means, it was still a bit eye-opening to read them all together. Parents of children all ages can benefit from the advice and guidance offered here.
Radical Optimism:
Have you ever found yourself wondering just how in the world you're going to make it through your child's adolescence? (Or any other particular "stage," for that matter.) I know that I've joked about it, the kind of kidding that's based somewhat in true feelings. Dr. Duffy points out that if we're making giant leaps about our children's destinies based on the individual mistakes they make during this time of development, and if we're spending all of our energy on simply trying to "get through" this stage of life, then we're seriously losing out on any opportunity to experience joy with who our child is right in this moment. Hope and optimism fall to the wayside.
The Good-Enough Teenager:
Forget the image of the ideal child, for perfection is simply not a part of life. Accept that your child will make mistakes- some of them big ones- and that this is a fact of life and a necessary part of their development. "The challenge for you is to acknowledge and accept your children right now, where they are."
Available Parenting:
"Available parenting differs in a critical way from other self-help parenting techniques. Instead of focusing on your teen's behavior, over which you typically, and appropriately, exert little or no control, the focus here is on your behavior as a parent, over which you possess virtually full control."
After a brief introduction to these concepts, Dr. Duffy proceeds to lay out descriptions of parenting approaches that he believes never work, and then in comparison, those that always have the intended effect. In these chapters, he brings his years of clinical experience to the page, sharing stories of many adolescents and families with whom he's worked that will surely resonate with readers. He also provides simple activities for parents to do on their own, intended to make readers aware of their perceptions of their children and parenting practices.
An emphasis is placed on making this concept of "available parenting" quite clear, to the point that the author responds to what he predicts may be the reaction of some readers. At several points in the book, Duffy clarifies that he is not promoting "soft" parenting, and that this approach is not intended to encourage a permissive parental tone. Quite the opposite, he charges, for there is still a strong place for expectations and structure, yet this looks different than the authoritative approach many parents feel is necessary during the teen years. Duffy argues that an authoritative approach quickly and wholly breaks down a relationship between parent and teen that is so important to develop at this critical developmental period.
Are you intrigued? We've got a copy of The Available Parent: Radical Optimism for Raising Teens and Tweens to give away to a lucky reader. Please leave a comment here to be entered, U.S. addresses only. We'll announce the winner on 8/15.
The winner of our latest giveaway, Beast Friends Forever, is # 19 Katklaw.
Dawn is hoping to enjoy her kids through every stage of development, even if her oldest is less willing to let her share stories about him on her blog, my thoughts exactly, these days.