This post may contain affiliate links. Read my disclosure policy here.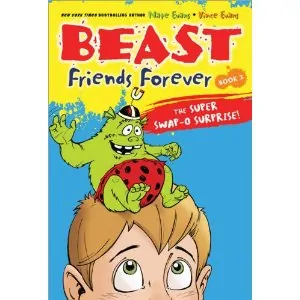 Beast Friends Forever: The Super Swap-O Surprise! is written and illustrated by two brothers, Nate Evans and Vince Evans. I don't know about you, but knowing that just sets the tone for a delightful sort of mischievous read.
This is the sort of book that is designed to get "reluctant readers" to open up a book instead of flipping an on switch. So yes, it's silly (with chapter titles such as "If you love bananas so much, why don't you marry one?" And yes, you might find the words "booger," "fart," "barf" and "poop" in the book, which might turn off some parents, but have you ever been around a 9-year-old boy? If you haven't, trust me when I say that these words are part of their vocabularies.
Beast Friends Forever: The Super Swap-O Surprise! is the second Beast Friends Forever book, but the first few pages get you up to speed about their beast Otto, who arrived inside a care package from Zeke and Hannah's dad who is in the navy. Otto is not a mean beast, which doesn't offer Zeke any protection from Sid the bully, but he's a lot of fun. He can take an item that you give him, say "Hoobah" and another item gets swapped in for it. Sometimes this is good, sometimes the swap is truly a surprise.
This story line revolves around some crazy swaps and then a soccer challenge from Sid the bully where Zeke and Hannah use Otto's swap powers to help them win.
Beast Friends Forever: The Super Swap-O Surprise! doesn't come out until August 1, but you can enter to win it before you can buy it! That also gives you a chance to check out book 1, Beast Friends Forever: Meet the Beast, like my 7-year-old son wanted to.
This is a great book for boys and girls who don't mind gross-out humor, ages 7 – 10.
Leave a comment here if you'd like to win the book. We'll announce the winner in this column on August 1.
We have a giveaway for another great early chapter book going on now at 5 Minutes for Books. Check out The Mystery of the Blue Ring, a re-release of the popular Polk Street Mysteries series by Patricia Reilly Giff.
The winner of our previous giveaway for two books in the Mission: Explore series is #18 Ellen C.