This post may contain affiliate links. Read my disclosure policy here.
Last summer, I had the great joy of reviewing a book intended to get older kids out and about in their own communities, exploring and completing "missions" that related to the world around them. Presented by The Geography Collective, Mission: Explore (linked to my review) impressed me with its creative slant, and the inherent confidence that older children need to be given opportunities to independently come to know their own communities.
Well, the Collective is at it again, and they're taking their missions out of the neighborhoods, just in time for summer travel. Mission: Explore Camping and Mission: Explore on the Road are the perfect pocket-sized books to slip into the bags of your older elementary or middle school child when you're getting ready to take a family road trip or heading out to the woods for a weekend camping experience.
As in the first Mission: Explore book, the idea at work is "guerilla geography." This isn't your traditional, straight-forward geography lesson, but one that encourages children to become familiar with their immediate surroundings through exploration. The Collective seriously understands kids, and the missions put forth in each book involve both writing and drawing activities as well as actual experiences that combine just the right amount of adventure, humor and trust in their abilities.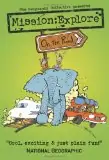 Each book contains fifty missions, perfectly suited to the Road Trip and Camping environments. One of my favorites in Mission:Explore on the Road calls for the reader to make a "car-o-graph" on a two page spread that has the letter A on the left side and the letter B on the right side. To do so, the child must put his pen on the letter A and let the car's bumps and movements bounce the pen along the page to the other side. Funny, right? Definitely different than your average activity book, and much more suited to an older child than another "find the difference" picture.
In today's day and age, one would expect a long and drawn-out safety warning section in a book that encourages older children to go out and explore. Well, there's a safety section, though I would not dare to call it long or drawn out. Filled with tongue-in-cheek humor, it emphasizes the important ("If it's hot, keep cool. If it's cold, keep warm… Hats, sun cream, layers of clothes and water will keep your body happy.") and still appeals to the typical humor of its intended audience ("Dirty water can make you puke and poo everywhere. To avoid getting sick, check the water is safe to drink.") Personally, I feel that we often hold our children's hands for much longer than is necessary, and at this age, they are much more capable than we often perceive. Some common sense and simple rules are just right, and the authors' tone shows the confidence they have in their intended audience.
Do you have an explorer of your own who would enjoy taking this book along on your summer travels? We have one copy of Mission: Explore on the Road and Mission: Explore Camping to give away! Just leave a comment here to be entered, U.S. and Canada residents only, please. We'll announce our winner on 7/18.
The winner of Just Too Busy is #29 katklaw777.
Written by 5 Minutes for Books contributor Dawn, whose adventure loving tween son adores these books. Their family adventures are chronicled on her blog, my thoughts exactly.