This post may contain affiliate links. Read my disclosure policy here.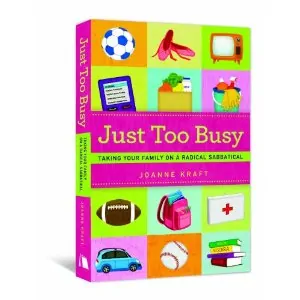 Did this title scream out to you from your feedreader? Are you too busy?
I honestly feel like I try to guard our family against too much busyness, so why are we always on the go? Since my kids are over 5 years apart, it's only been in the last couple of years that I've had to juggle activities for more than one.
Because even though it seems like caring for little ones who can't care for themselves takes a lot of work and attention, it seems to get worse. In Just Too Busy: Taking your Family on a Radical Sabbatical, Joanne Kraft says:
Little ones are an insane amount of work. There is no book out there that is going to solve that. The busyness I needed help with came as my children got a little bit older. . . Things didn't slow down. As a matter of fact they began to move at warp speed.
Band practice after school, baseball games and practice, AWANAs, Youth Group, time with friends, concerts — all of these activities keep my family in the car. This spring there were several days that we get home, ate dinner at some absurdly early time like 4:45, hopped in the car to go to baseball practice or game where my husband joined us straight from work, and then I left to pick up or drop off my daughter at church, and it was 8:30 before we were all back home. It drove me nuts!
The busyness of that sort of Spring schedule left me craving rest. The kids have been out of school for a couple weeks and we've binged on doing nothing! It turned out to be a great time to read Joanne Kraft's Just Too Busy: Taking your Family on a Radical Sabbatical. Yep, Joanne took her family on a radical sabbatical for a whole year, cutting out all extra activities. That meant no voice lessons for her teen daughter, no baseball for her teen son, no soccer for her tween daughter. . . . nothing.
In spite of Joanne's choice for her family, what makes this book so valuable is that you see that it's not all or nothing. That sort of approach would have been overwhelming and offensive to most readers, so I love that Joanne bit the bullet and did it for a whole year so that she could learn a big lesson and share it with her readers. She shared a lesson about how one of her daughters turned to books over at 5 Minutes for Books today. Please check it out.
The tone of the book is not judgmental. Joanne Kraft guides the reader by sharing a closing prayer that the reader can use to seek God's wisdom on each particular area, and then asking some questions for the reader to discern what small changes she can make.
That's right — you don't have to do as Joanne did and take an entire year off from every single activity to benefit from her advice.
I loved this book. Joanne is funny and real and realistic. She doesn't live in some alternate universe totally cut off from the rest of society. She's real. Her kids are real. But she make a big radical change in response to the disconnect that she saw in her family, and helps readers identify the areas in their families that might need some tweaking.
This would be a great book to read with some girlfriends. You can download a free leaders guide here.
Find out more about Joanne Kraft at her website and blog. Also, read her great guest post for us at 5 Minutes for Books: Too Busy to Read?
Leave a comment here and you'll be entered to win a copy of Just Too Busy (U.S. residents only). We'll announce the winner on July 4.
The winners of our previous giveaway for two Outdoor Exploration books are #5 Jenn and #72 Christopher.
Original post by 5 Minutes for Books managing editor Jennifer Donovan who also blogs at Snapshot