This post may contain affiliate links. Read my disclosure policy here.
Today we have Part 2 of our Three Part Tackle Series with Jennifer Tankersley, founder of ListPlanIt.com.

Last week Jennifer helped us Look at the Big Picture in Part 1 of this series. Today, Jennifer shows us how to get the most out of planning a Tackle and shares a free downloadable to do list template for Planning Your Tackle.

Join us and our guest tackler Jennifer… and remember to check back next week for Part 3.
Planning your Tackle
To Do Lists are your friends. They are there for you. They never give up on you. They light the way to a path of personal achievement and satisfaction.
Without To Do Lists, accomplishment is mired in forgetfulness, confusion, and repetition. Thus, Tackle It Tuesday is here to reestablish the admiration and respect due a trusty To Do List.
It is generally a well-known fact that as family and household managers, we moms have long lists of responsibilities.
How do we accomplish it all?
How do we figure out which responsibilities come first and what each requires?
We talked last week about looking at the Big Picture. This week, we're looking at breaking that big picture down into actionable tasks or to dos.
Writing a To Do List requires a bit of strategy, particularly for Tackle It Tuesday here at 5 Minutes to Mom. Here are some things that you should consider when creating your To Do List:


Set Goals. That's really all a To Do List is. . .a series of goals that you want to achieve.

Determine a Deadline.
A deadline may be imposed by an outside force (from a boss or a bank) or it may be self-imposed to help give a goal a sense of urgency. Every goal or task on a To Do List should have a clear deadline. In cases of tasks that require several hours or days to complete it, a series of deadlines may be necessary.

List the Steps.
A goal or To Do that reads "Make Christmas Gifts" is very broad and may encompass many tasks in order to complete it. One way to help you break it down into a more actionable format is to list the steps to completion. In this case, some of the steps might be 1) make a list of recipients, 2) research gift projects, 3) purchase materials, 4) set aside/schedule time to complete each gift. Now the goal no longer seems as daunting or difficult to achieve. You simply work on the steps, one by one.

Note your Progress.
Realize that Rome wasn't built in a day. Sometimes, when it seems that you are getting nowhere, look back on what you've achieved. Keep in mind, the hardest tasks can be stumbling blocks to further progress. Work on the hardest, most complicated, least enjoyable tasks first thing in the morning.

Reward Yourself.
Don't be afraid to dangle a carrot for a job well done. I do it for my children all the time (e.g. for 1 hour of reading, 1 hour of television). Save your favorite activity for a specified time or date and promise to enjoy it only if you have properly tackled your To Do List.

ListPlanIt has created another exclusive page just for readers at Tackle It Tuesday.
Click here to access a downloadable page, or click on the image below.
Download this Tackle It Tuesday to do list template for free, type into the spaces, print it if you choose, and save it to your computer for future use.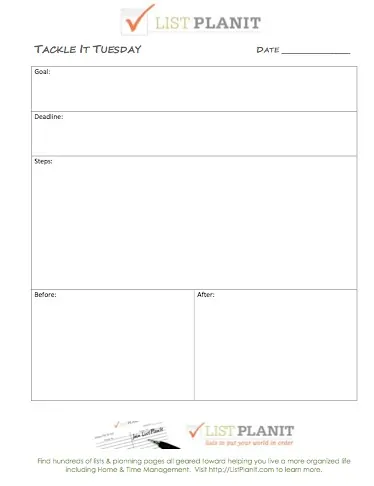 Check back next week for more tips on Tacking your To Do List in Part 3 of this 3-Part series from Jennifer.
Catch up on last week's tips at Tackle It Tuesday – Looking at the Big Picture
Thank you to Janice and Susan for allowing me to be a guest on 5 Minutes for Mom's Tackle It Tuesday.
Written by Jennifer Tankersley.
Jennifer is the founder of ListPlanIt.com, which has hundreds of lists and planning pages all geared toward helping you live a more organized life and write a more effective To Do List.
Disclosure: We are so impressed by ListPlanIt that we have become affiliates and have included those links in this post.
Written by Susan Carraretto, co-founder of the Mom Blog 5 Minutes for Mom.
Talk with me: @5minutesformom and Facebook.com/5minutesformom.