This post may contain affiliate links. Read my disclosure policy here.
Today we begin a Three Part Tackle Series with Jennifer Tankersley, founder of ListPlanIt.com.

Jennifer will be joining us for the next three weeks to help us get organized using her custom lists.

Personally I'm hopeless with making and following lists, but Jennifer Tankersley, aka List Mama, "has been making lists since she learned to write."

I am hoping to learn some great list-making tricks from her and get inspired to start using lists more effectively.

Join us as we welcome our guest tackler Jennifer… and remember to check back next week for Part 2.
Looking at the Big Picture
Tackle It Tuesday is all about the To Do List!
As the creator of ListPlanIt.com, I know a thing or two about lists. I know that without an actual list, goals, projects, and deadlines might possibly be pointless. I've encountered the challenges of trying to get things done without setting goals or listing ingredients or plotting the steps. I've learned that with just a few minutes with my lists or notebook or smartphone or my computer, I can save myself a lot of time and frustration in the future. All it usually takes is a spare moment in the car (as a passenger or while waiting for a child to come out of school) or a few minutes before turning out the light for sleep to create a list (or two) that will guide me and help me prioritize my time.
In order to create an effective To Do List, you must first look at the big picture. Whether that means looking ahead a week, a month, a year, 5 years, or even a lifetime, always consider the things that mean the most to you and to your family. To figure that out, here is a list of questions that will help you in your quest for the big picture.
Which tasks are priority?
What actions will help you make your deadline(s) or give you the most satisfaction? These should be at the top of the list and completed first.

Which decisions or goals require steps to completion?
What may require a series of tasks or actions in order to minimize the effort and time involved? Schedule out these tasks or devote a certain day of the week as a mental reminder. Few tasks can be done in one sitting. For everything else, a progressive schedule should be determined.

What is on your To Do List that is not in line with the big picture?
Sometimes this is the difficult part. It is not as though moms want to add more than we can handle to our To Do List. This usually occurs when we are more willing to overextend ourselves than to simply say no. Turning people and projects down requires resolve and lots of practice.

ListPlanIt has created an exclusive page just for readers at Tackle It Tuesday.
Click here to access a downloadable page, or click on the image below. This list will guide you to your Big Picture.
Download this Big Picture List template for free, type into the spaces, print it if you choose, and save it to your computer for future use.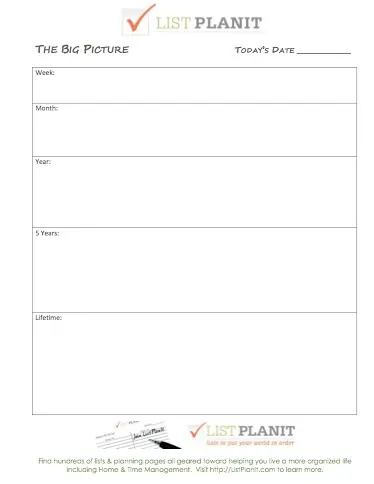 Check back next week for more tips on Tacking your To Do List in this 3-part series.
Thank you to Janice and Susan for allowing me to be a guest on 5 Minutes for Mom's Tackle It Tuesday.
Written by Jennifer Tankersley.
Jennifer is the founder of ListPlanIt.com, which has hundreds of lists and planning pages all geared toward helping you live a more organized life and write a more effective To Do List.
Disclosure: We are so impressed by ListPlanIt that we have become affiliates and have included those links in this post.
Written by Susan Carraretto, co-founder of the Mom Blog 5 Minutes for Mom.
Talk with me: @5minutesformom and Facebook.com/5minutesformom.