This post may contain affiliate links. Read my disclosure policy here.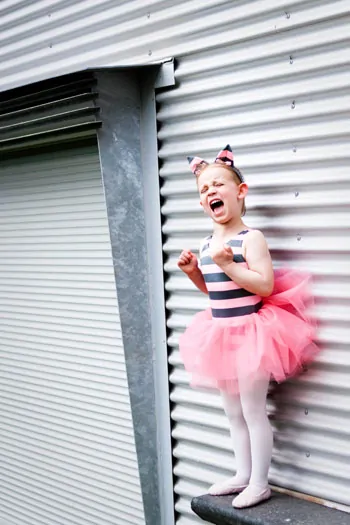 Olivia — Screaming Ballerina
After Olivia and Julia's ballet recital, while I was being mamarazzi, Olivia had a vicious tantrum when I took a photo of Julia instead of her. She ran away and I chased her down to this wall. Of course, I took some shots, which made her scream even more But seriously — I had no choice — this is a hysterical shot!
Mom Bloggers (and Dad Bloggers too!) post a photo on your site, link up and find others… Wordless Wednesday is tons of fun. (And I know it says "wordless" but I just can't bear to not write anything! If I had created it, I probably would have named it something different! LOL So feel to link up your word-full or word-less Wednesday photos!)
Leave the URL to your photo (clearly mine are never truly "wordless") and then visit others!
Here is a fun thumbnail linky:

And here is a basic linky if you prefer your linkies the good old fashioned way!

Thanks to Uisce for creating Wordless Wednesday.

Written by Janice, co-founder of this Mom Blog 5 Minutes for Mom
Preschoolers can learn to ride two-wheelers without training wheels. The secret is a balance bike (often called a running bike)!