This post may contain affiliate links. Read my disclosure policy here.
When your friends are dressed in crocheted legwarmers, neon green t-shirts and are having a "dance off" in front of 200+ people, you NEED your flash to work!
Only problem was, when I pulled out my flash (I rarely use it, as I prefer to shoot with ambient light) I realized I had forgotten to put my batteries back in after charging them! I usually always carry extra batteries in my camera bag, but for some reason, I was out!
So, I did what any mom blogger in the situation would do — I grabbed my friend Laura's flash off her Canon, since she was dancing, and shot away! Cause, seriously, that was not a moment to be missed!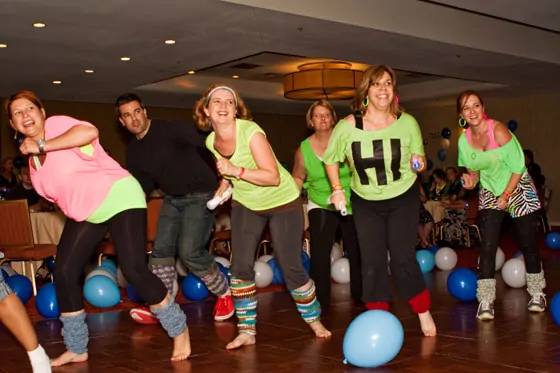 I don't know what it is about batteries — but you always seem to need them when you don't have them!
What are the items/times you try to make sure you have back up batteries???
Please Note: We are Rayovac Sponsored Bloggers. But our opinions, and need for batteries, is all our own! You can find coupons and more at Rayovac's Facebook Page.
Written by Janice, co-founder of the Mom Blog, 5 Minutes for Mom
We love to chat with you! Tweet with us @5minutesformom and find us on Facebook/5minutesformom.