This post may contain affiliate links. Read my disclosure policy here.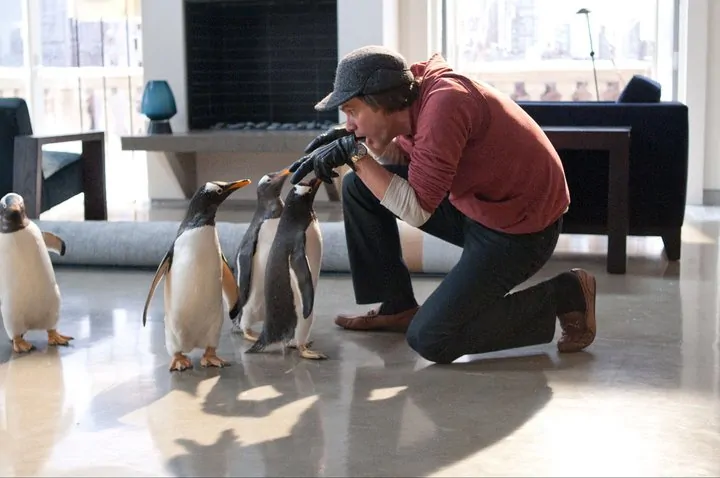 Unless you've been living under a rock, you know that Mr. Popper's Penguins is in theaters June 17. I had the opportunity to see it last week, and I give it two enthusiastic thumbs up. Yes, it's funny, but it's sweet too, and at least through the lens of what's appropriate for my kids (7 and 12), I thought it managed the difficult task of being completely appropriate for those ages and wonderfully entertaining to me as an adult.
Read my full review of the movie, and the comparison of the Newbery-Award winning book with the movie today over at 5 Minutes for Books.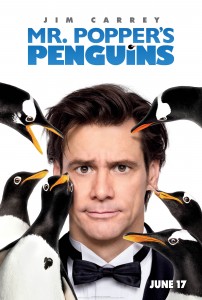 One reason that Mr. Popper's Penguins is going to be so successful (beyond the amazing Jim Carrey) is because everyone loves penguins. They are naturally sort of funny and also very sweet.
To help you and your kids survive the countdown to the release of the movie, I've compiled a list of some fun facts I learned on the Mr. Popper's Penguins press junket:
Penguins have a very distinctive sound (which Jim Carrey imitated quite well in our interview). He told us that the penguin's cry was used for the velociraptor in Jurassic Park.
When live penguins were being used in filming, the set was kept at 40 degrees.
Yes, live penguins were used. Of course there's some CGI animation when the penguins have to act in a certain way, but Jim Carrey opted to work with the live penguins whenever he could. Since both were going to be used, the graphic penguins had to be up to the quality of the real ones. Even when you KNOW it's a scene that had to use a graphically manipulated image, it's hard to tell they they aren't real, even when you're looking. Look for it when you see the movie.
Jim Carrey loves penguins and was drawn to this project because live penguins were going to be used. Other actors lobbied for the role, because they also felt they had a special connection with penguins.
Before filming this movie, Jim Carrey actually built an ice rink in his backyard for a kid's birthday party for which he brought in live penguins.
The penguins are Gentoo penguins, which the director Mark Waters wanted to work with because they were a nice size (not too small, not too big), and they were the most friendly and curious when he was looking at different types at the San Diego Zoo.
Because of the bird flu, North American birds had to be used. The producer John Davis had also been doing his penguin research, and told Waters that there were only 8 penguins in all of North America that they could use. What kind were they? Gentoo. It was meant to be.
The ones that were in this film were about to be shipped from the biodome in Montreal to the Ocean Park Institute in Hong Kong, which is where they currently reside.
As a part of the press junket, we were able to get in front of the camera. Yes, meeting Jim Carrey was cool, but this was such an original and fun experience, that it was a standout of the trip. I detailed the process (with pictures) of my on-camera debut at my blog Snapshot. Check it out.
Mr. Popper's Penguins opens June 17. Will you be seeing it??
Original post by 5 Minutes for Mom contributing editor Jennifer Donovan, who also manages 5 Minutes for Books, where she loves sharing her experiences with all sorts of stories in all sorts of genres.

Disclosure: Twentieth Century Fox sponsored my travel and other expenses for the Mr. Popper's Penguins press junket, where I saw the movie and interviewed some of the cast and crew. They have asked me to post about my experience, but my opinions are entirely my own.