This post may contain affiliate links. Read my disclosure policy here.
Meet me in Minneapolis for Mr. Bubble's 50th Birthday Bash!!!
My kids LOVE bubble baths — and since Mr. Bubble sent us a batch of Bubble Bath and Foam Soap, my kids have been soaking and playing in the tub for hours each night!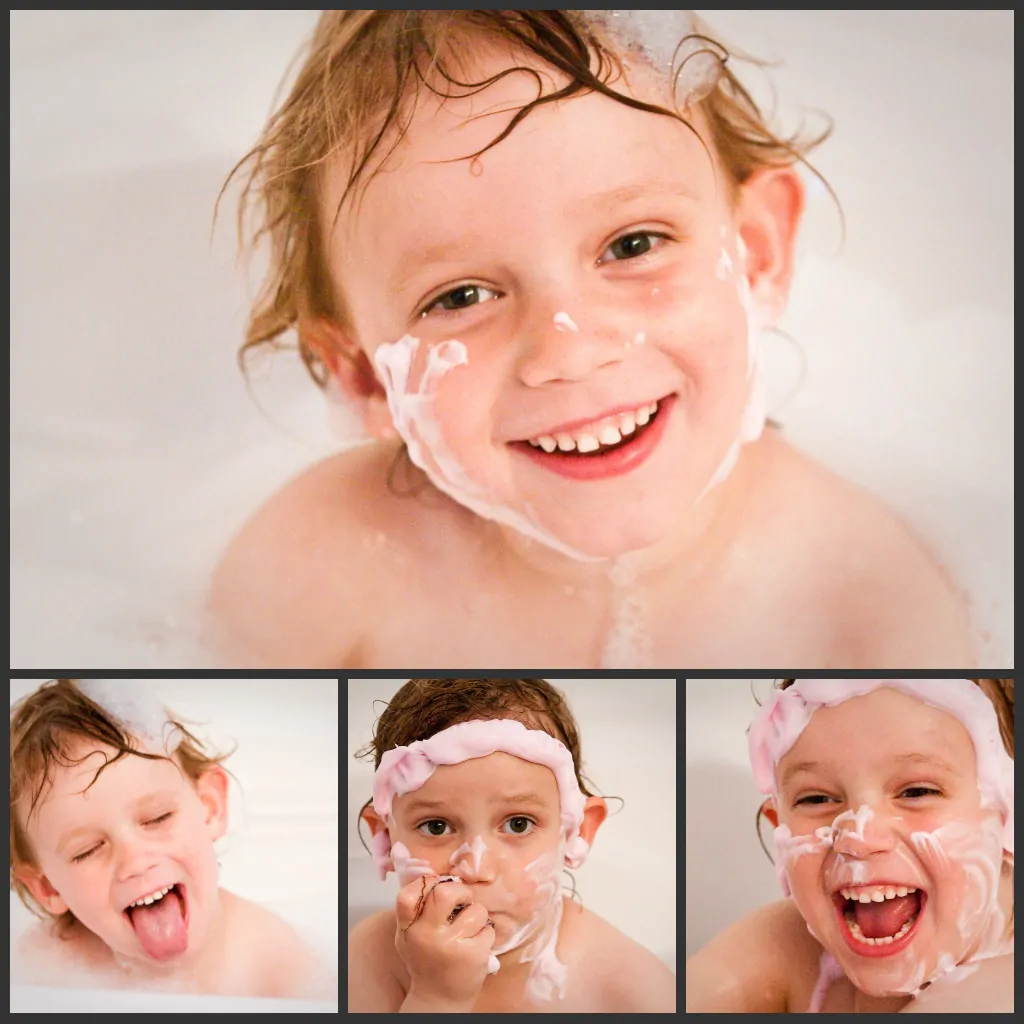 This Saturday, my nine year old son Jackson and I will be in Minneapolis for Mr. Bubbles 50th Birthday Bash! Sadly, I have to leave Olivia home so she can attend the dress rehearsal for her ballet recital on Sunday. (Jackson and I are catching a late night flight home to be at her performance on Sunday!)
It is too bad Olivia will miss this MASSIVE Bubble Bash at the incredible Waterpark of America in Bloomington, MN. I know Jackson will have a BLAST — and I so hope that some of you who live in Minneapolis can come out to party bubble-style with us!
Mr. Bubble – childhood icon for 50 years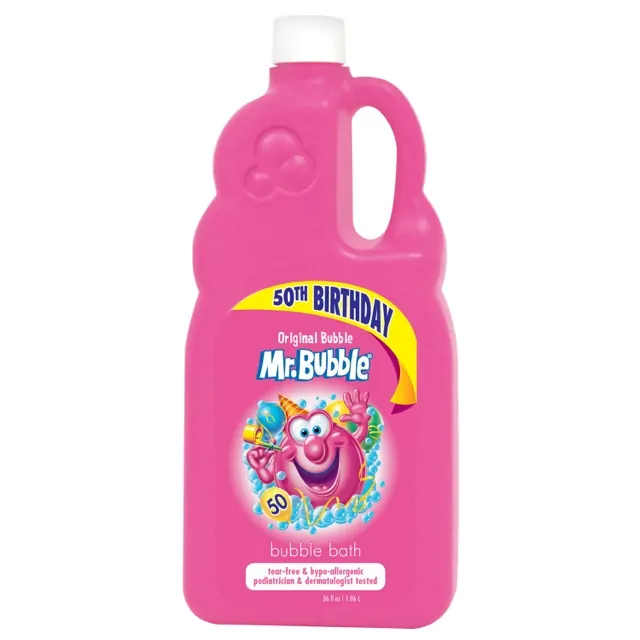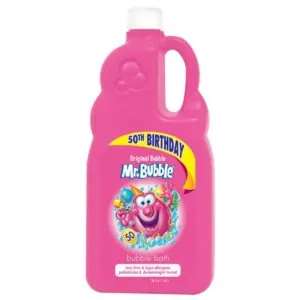 For 50 years, Mr. Bubble has been making kids smile and "Making getting clean as much fun as getting dirty!" To celebrate 50 wonderful years as an iconic brand and best selling bubble bath, Mr. Bubble is throwing this huge birthday bash – and Jackson and I are flying out for the party in the morning!
Mr. Bubble 50th Birthday Bash

Mr. Bubble's birthday bash will be held June 11, 2011 at the Waterpark of America in Bloomington, MN, from 10:00 AM to 2:00 PM. If you are in the Bloomington area, we'd love to see you there. Everyone is invited to the party! Ticket information and hotel reservations can be made through www.waterparkofamerica.com. Located near Mall of America, inside the Radisson Hotel Bloomington, Waterpark of America is the country's biggest indoor water park hotel.
Mr. Bubble will set a record by creating the World's Largest Bubble Bath in the 2,800-square foot bubble bath play area (which features an 8-foot high, 20-foot wide bathtub). The party will also include birthday cake, a bubble beard contest and a chance to get your picture taken with Mr. Bubble. Prizes will be given out throughout the day.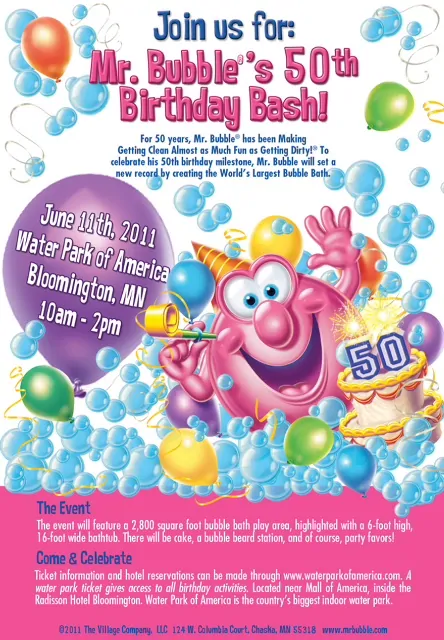 $50 Mr. Bubble Giveaway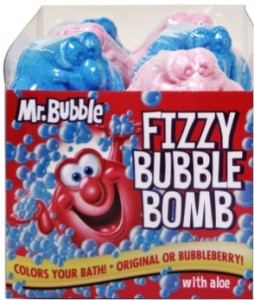 Can't make it to the birthday party? We'd love to bring the celebration to you!
We're giving away a $50 Mr. Bubble gift basket to one lucky reader (US readers, only please.) Please note — the Mr. Bubble images to the right and at the top are only samples of what will be included in the gift basket.
To enter, leave a comment on this post. Feel free to share some of your Mr. Bubble memories with us!
The giveaway will end on June 24, and a winner will be announced on June 25. Open to residents of the US only. Please see our site's terms and conditions for more information.
Written by Janice Croze, co-founder of 5 Minutes for Mom.
Talk with me: @5minutesformom and Facebook.com/5minutesformom.
Note: Mr. Bubble is flying me out to Minnesota (along with my son Jackson) to celebrate Mr. Bubble's birthday bash. This post is part of a promotional campaign with Mr. Bubble at 5m4m.