This post may contain affiliate links. Read my disclosure policy here.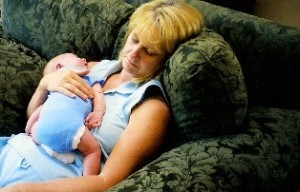 Kelli here…
As I write this post, I am breaking just about every rule that Dr. Donnica Moore listed for maximizing your hours of rest and giving yourself every advantage to function well during the day.
So this post is a clear example of do as she says, not as I do.
Like all moms, I often find myself rolling out of bed in the morning and stumbling bleary eyed toward the coffee pot, begging it to work magic and get me through my day. Every morning, when my alarm clock goes off (and by alarm clock, I mean the three year old standing by my bed at the crack of dawn pleading for a drink because he might die of thirst before the sun peeks over the horizon) I promise myself that I'll go to bed earlier. I mean, how hard is it to get in bed at a decent hour, right?
Apparently it's pretty hard. And not only for me. According to Dr. Moore, the average woman only receives about 6.5 hours of sleep/night when really what we need for optimal health and function is 7-9 hours of sleep/night. So what is it that keeps us from laying down and shutting off?
For me, I've found that I relish the alone time at night after the kids go to bed. I need to unwind once everyone is settled, and that unwinding usually takes me about an hour. Unfortunately, instead of going to bed after I unwind, I ramp back up again with work, laundry, reading or television.
This leaves little time for the most fun way she mentioned to wind down before bed…*Ahem*. Watch the video – you'll see what I mean.
But Dr. Moore makes some really great points about the importance of sleep for us as moms and rather than continue to ramble on about it, I will just let you hear it straight from her:
So tell me – how are you sleeping these days?