This post may contain affiliate links. Read my disclosure policy here.
Have you seen Glee's latest episode "Born This Way"?
Janice and I have loved the TV show Glee since the start, although we have felt this season has been weak. But our faith in the show's clever writers has been restored. "Born This Way" nailed it!
You can watch full episodes of Glee on Fox and if you're in Canada on Global TV.
In "Born This Way" the Glee Club learns about self-acceptance through Lady Gaga' music. They hit on issues of plastic surgery, sexual orientation, mental illness and bullying.
(And my favorite character Kurt gets lots of screen time.)
In the show, they all create custom t-shirts with words on the front that call out something they are insecure about.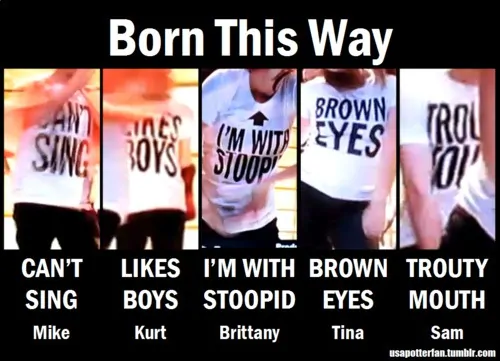 Rachel's says "Nose", Finn's says "Can't Dance", Kurt's says "Likes Boys".
What would YOUR shirt say?
Mine would say "Small Eyes".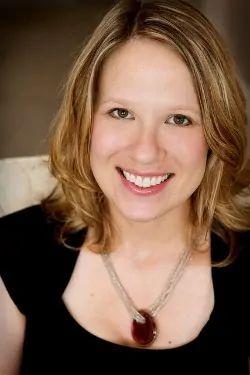 I've always hated my eyes. They are too small, set too close together, have hardly any eyelashes, they're "sleepy" (my eyelids don't open all the way and stay at half-mast all the time), they've got permanent dark, puffy circles under them, and to top it off, they can't focus properly. I've had to wear glasses since I was 3 years old.
As a kid, I hated wearing glasses… way back in the day (I was born in '73) you didn't get all the cute options in eyewear that are available today. Janice and I were forced to wear ugly brown glasses. We'd constantly "forget" them in our desks at school until our eyesight became so poor that we couldn't take our glasses off at all.
When we were 11 years old, we finally got contact lenses. But do you know what? When I put those contact lenses in and really saw my eyes for the first time, I felt like crying. I hadn't realized how small they were before. I hadn't realized how few eyelashes I had and that my facial structure didn't match my identical twin sister's.
Thank goodness I had just turned 11. Why? Because I could start wearing MAKE-UP!!!
Bring on the eyeliner and mascara!
But to this day, if I could change one feature, I wouldn't hesitate to beg for big, beautiful blue eyes with thick lashes.
Fortunately, I didn't let my frustration with my appearance seriously affect my self worth as a teenager. I was lucky… I added a little bit of makeup and moved on with my life.
But Are The Kids Alright?
Not all teenagers find the happy ending of self-acceptance that the Glee kids sang about.
With the road to cosmetic surgery paved so smoothly these days, I can't imagine how kids are supposed to accept themselves the way they are. (I think we as aging women may even be setting the worst example as we do everything we can to stop looking our age.)
I admit that if I could easily and without risk change the way my eyes look, I might be a little tempted. And I certainly do NOT want to judge anyone that has had cosmetic surgery.
But I'm worried… are we loving ourselves and teaching our children to love themselves?
I think this Glee episode hit the issue hard and I'd love to hear your thoughts.
What would YOUR shirt would say?
Leave a comment and wear yours proudly…


Written by Susan Carraretto, co-founder of the Mom Blog 5 Minutes for Mom.
Talk with me: @5minutesformom and Facebook.com/5minutesformom.
Photo Credit: Elon_n on Flickr photo shows credit listed as usapotterfan.tumblr.com
And the photo of me? That was taken by Janice and I presume she did a little Photoshop work clearing away some of the bags under my eyes.