This post may contain affiliate links. Read my disclosure policy here.
I loved Leslie Mann in her roles as the quick-witted, smart and level-headed sister in Knocked Up and the former Hooter's waitress in Big Daddy, but after meeting and chatting with her in person, I'm now truly a devoted fan.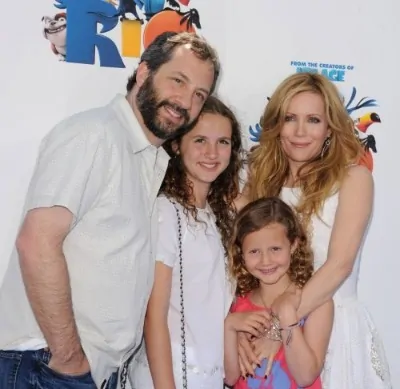 The star of the new 3D animated film, RIO, sat down with us for a chat and believe it or not, ladies, despite the glamorous, very thin, nearly see-through white lacy Dolce and Gabanna dress she donned at the film's LA premiere, she is one of us!
We sat down with Leslie in a beautifully etched oak room at the Roosevelt Hotel where the discussion quickly turned to, "We're all girls here, right?" as she sipped her wine, relaxed and made fun of the fact that her dress and the tiny pasties inside of it were dangerously close to slippage.
The Movie
In Rio, Leslie plays "Linda", the human best friend/mother figure, to the main character, a blue Macaw who can't fly, named "Blu."
Leslie never worked with the other stars of the movie during the long line-reading sessions, which is normal when working on an animated film.
"Each session would be for about four hours, and we would read the same lines numerous time. And then, toward the end, we would read against the picture after everything was animated. And that was the really fun part.

So, it's funny because in the beginning, I'm thinking–I'm going to work, I'll try to look nice, and then after the first few sessions, I was showing up in sweats and Ugg boots. It was definitely an easy, fun job."
Of course, when we say "Minnesota," where Leslie's character in Rio is from, there's a good chance we hear the accent that goes along with it: "Minn-uh-SEEEW-duh," but Leslie says a Minnesota(n?) accent didn't really work out for her:
"I researched a little bit in the beginning about the Minnesota accent however, I'm terrible with accents. I "tried" to do it right in the beginning. And the team said, um, no don't do that, just do your regular accent. "
Stardom and Motherhood
The conversation, though, was less roundtable and more "girl talk" (I almost feel like I'm breaking some sort of "girl code" by writing this!) as we discussed motherhood and all of its highs, lows, and everything in between, quickly discovering that even stars have screaming babies on cross-country flights, get peed and pooped on, and like us, have no idea what's going on most (or at least part) of the time.
In fact, we tried to solicit her motherhood advice, but just like a lot of us, she says she just wings it because it changes so much.
Leslie has two little girls, aged 13 and 8, and after the first one was born, she went through a sort of depression.
"It was really hard in the beginning when I first became pregnant it was just such a shocker. I was depressed for about five years, And I don't know if I really had postpartum depression because back then no one would talk about it. I went to therapists tried to prescribe me medication, but it didn't work."
And then, after her second child, and a brief identity crisis, she says the fog just lifted.
­"That was part of my experience with the depression. I didn't know who I was or what I was doing. It took me a really long time to figure out how to be this new person. But, eventually I did, and everything is good now."
Leslie's Beauty Tips
So as a mom, what are some of her beauty secrets? (Because honestly, she looks just as fresh and beautiful in person as she does on screen.)
"There's a clay mask that I use, I actually used it today. It's called Aztec Clay, and you can get it at Whole Foods. And you mix it with apple cider and vinegar. It's awesome and will give you a nice healthy glow. It burns your face a bit. You apply it and it will burn, but it makes your skin really tight & clear."
You can find it at Whole Foods for about 5 bucks. She also uses an old stand-by for stretch marks, Palmers Cocoa Butter (yes, even the stars get hit with these things – you'd never know it under that dress though!):
"I put it all over my stomach while I was pregnant, and then my butt and my thighs got stretch marks! So, now my stomach looks great, and then my butt and thighs are shot. But, that works!"
What's next up for Leslie?
As a working mom in Hollywood, she works her schedule around the kids as much as she can. She begins work on another animated film during the summer, when the kids get out of school.
The movie, "Rio," is in theaters everywhere and is rated "G." It's a great family film, so go see it!
Read More about my Rio adventure:
Written by 5 Minutes For Mom Guest Contributor, Christie O

Are you on our email list?