This post may contain affiliate links. Read my disclosure policy here.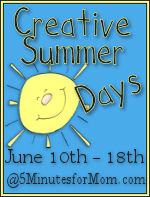 I have another giveaway sponsored by the folks at education.com. If you want some great encouragement and overview of some educational and creative summertime activities, read their article on Surviving Summer. Janice has already shared some of the activities that she and Jackson will be trying out this summer in her post Imagine. I thought I would focus on some ways that I hope to reinforce Amanda's skills this summer.
The first thing that I did was set some goals. She needs to get her multiplication and division facts down pat so that she will be able to tackle the more advanced math that she will learn in 5th grade. I was SO happy to find the rules for this simple card game, Bulls-eye, listed in the 4th grade section (I just went to the Browse Activities by Grade and Subject, selected 4th grade, then searched by topic–Math). Playing this game will fulfill two of my goals for the summer — math reinforcement and spending time playing games with the kids.
Last summer, Amanda and I tried swapping a notebook back and forth to write a story, but it didn't get very far. I love this suggestion from education.com, which combines the old fashioned art of letter-writing an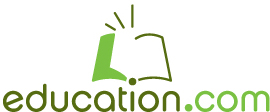 d story-swapping with a twist. This method suggests enlisting a relative, and I think that her grandparents would love to participate with her. The additional benefit is that they get to witness her creative writing skills (and see them improve as the project continues).
Education.com has donated a special prize pack designed to help fuel your child's creativity this summer:
Alex Toys "Happily Ever Crafter" includes the supplies to make more than 9 different projects, or the materials to create on your own. It's great for ages 7 and up.
Magnetic Poetry Kids Storymaker contains words and phrases to fuel the writer in all of us (and I do mean all of us–this is fun for all ages).
If you'd like to win both of these prizes, click over to education.com and look at the Reference Desk sidebar on the left. This is where you will find articles grouped together by subject. Which of those topics jumped out and made you click it and read what the subject grouping of articles? Leave a comment telling us which subject in the reference desk compelled you most.
This prize can ship to U.S. or Canadian addresses. The winner will be posted on June 24 with the other Creative Summer Days winners.