This post may contain affiliate links. Read my disclosure policy here.
Reading memoirs opens doors that allow me a peek into something that I will probably never experience–it could be the life of a world traveler, an addict in recovery, or in the case of Road Map to Holland, a mother's journey of parenting a child with Down syndrome. This book is the best of memoir–the story is honest and insightful and it quickly seeps into the heart of the reader.
I have a friend with a teenager who has Down's. I've known her daughter since she was about five years old (I wrote about seeing her grow up HERE), and she had always praised the essay "Welcome to Holland" as an accurate and lovely description of finding out that your child had Down syndrome (If you've never read the essay, you should read it now to get a better context of the title of this book). Because of that, I knew that I wanted to read this book, if for no other reason than to understand a bit more of my friend's parenting experience.
However, mere pages into Jennifer Graf Groneberg's book, I realized that I was going to get so much more out of this book. What I got was yes, one woman's story of the first two years of her life as the mother of a son with Down syndrome–but much much more. I got a woman's insights on marriage, and how having children changes it. I read about the important role of friendship in a mom's life, and the sad loss of a connection that was once so dear. I experienced through her words, that which several of my friends have experienced–having to leave a premature baby in the hospital NICU.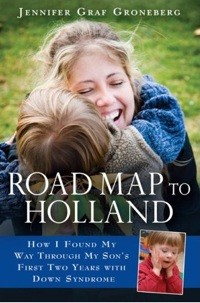 Groneberg writes with honesty. She says some things that you don't even expect your best friend to share. And she writes beautifully. I can best illustrate this by sharing a few quotes:
All the children a woman will bear are present inside her even before she is born. They are created while she is still nothing more than a tiny form twisting and turning in utero.
***
"Kids," she [a receptionist] says. "They're life's sandpaper."
Life is life's sandpaper, I decide on the way home.
***
I disengage myself from the babies and change them into fresh diapers. I kiss Carter [her older son] on top of the head. . . I feel something I haven't felt in a long while: confidence.
Reading the book reminded me of how I felt when I found out that Amanda had a birth defect, and like Groneberg, I had to say goodbye to that dream of having a perfect child (I wrote about it today on my blog). It occurred to me that all mothers deal with that feeling at some point–of letting go of perfection.
That's yet another reason why this is a book for all moms.
Would you like to win one of three signed copies of Road Map to Holland? Leave a comment here. The winners will be posted in next week's column.
The winners of last week's book, Date Night in a Minivan, are

#24 Happy Mama
#112 Frances Watson
#191 K. Cleaver
#169 Mannequin
#56 Shannon H.

I think that you will all enjoy the book. Thanks for your honest comments about what your biggest obstacles are. There was so much interest in this practical yet funny book. Those of you who didn't win can follow the link and order your own copy.