This post may contain affiliate links. Read my disclosure policy here.
When I announced our new Creative Summer Days promotion (which starts Tuesday), I said that I like to use the summer months as a chance to use the more laid-back atmosphere of Summer to start some good habits. Your marriage is a great place to start–both you and your spouse along with your kids will reap the benefit of the extra effort.
Date Night in a Minivan is so much more than I thought it would be. Honestly, it sat in my to-be-read pile for a while, because I was thinking, "I'm not sure I need to read this. My husband and I connect regularly. The kids have a firm bedtime, and we enjoy our adult time each evening. We go on dates at least every few months, and on overnight getaways several times a year. In fact, we just returned from a weeklong vacation (you can see what I read on my vacation at that link, and check out some pics if you follow the other link in the post)." Although author Lorilee Craker does espo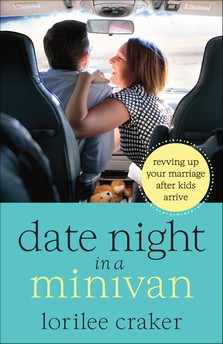 use the virtues of time alone with your husband, that is not all this book is about.
The subtitle is "revving up your marriage after kids arrive," and while most of our minds probably go to one place when we hear "revving up," it's not all about connecting physically or emotionally. If you think about it, the addition of kids to a marriage changes it in so many ways. Everything is intensified–money concerns, disputes about the division of labor, differences in our families of origin (which heavily influence the way we parent), conflicts with our parents–the new grandparents, fighting about time away from the family. . . .
Date Night in a Minivan gives you tips for dealing with all of these issues and so much more. Lorilee Craker tackles all of these issues with open sharing about from her own marriage. She shares honestly, but also uses humor to diffuse the automatic response that comes up when we are dealing with conflict–who's right (or more accurately, "I'm right, so how can I convince him that he's wrong").
In addition to sharing her own experiences, each includes thoughts from "The Dish Panel," other women who have struggled with the area that chapter addresses. But Craker doesn't just leave us hanging. The chapters conclude with advice on how to GIGO (Get it Going On)–in other words, what to do to address the problem. The author suggests tactful ways to bring up the issue, work-arounds to differences of opinion, and more.
Another reason I like this book is because it's really written to women. I don't know about you, but I am the one who reads all the marriage/parenting books. Since it's written to us, she is able to help us with our feelings about the subjects and then help us orchestrate equitable solutions.
Would you like to win one of five copies of this book? Leave a comment (if you want to dish, tell us about the biggest source of conflict in your family). I'll announce the winners in next week's column.
The winners of last week's book, The Host, are
#104 Carrie S.
#186 L McLenden
#23 Kelly's Krazy Kids