This post may contain affiliate links. Read my disclosure policy here.

I love to watch his mind work. He furrows his brow and paces. Often he talks to himself too.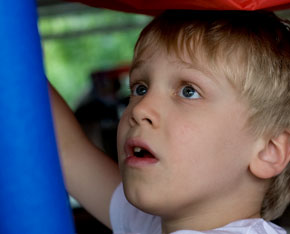 His favorite imaginary game is fort building. After he constructs his stronghold, he creates detailed plots as he wages war from behind his walls of furniture and blankets.
But I have to admit, sometimes it gets a little inconvenient to have the couch constantly torn apart and blankets strewn about the family room.
So when Education.com offered to send Jackson a Cranium Super Fort (and to sponsor a giveaway of course!) I jumped on it.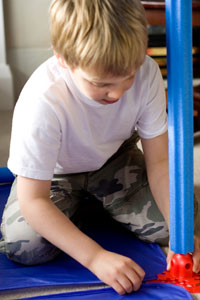 It's a perfect way to keep Jackson dreaming up his own unique designs, but with less damage to my furniture.
To say that it was a hit with Jackson, is an understatement. He loves it. Loves it more than ice cream. (And my kid loves ice cream!)
Don't believe me? Listen in…
"Jackson it is time to get going to the Ice Cream Party at Ready to Read."

"This matters more than ice cream! I am not that into ice cream."

"Umm… Jackson we gotta go…you know? Friends… ice cream… You have been talking about this party for days!"

"Uh uh – nothing is funner than this."

"Come on Jackson, we gotta go…"

"Uh uh – I am not leaving my new toy."

"Jackson we have to get to the party."

"I don't care about an ice cream party – it is not funner than this toy. Just look at my creation."
Yes, creative play can even entice a six year old away from an ice cream party!
I finally did drag him away from his fort. Cruel mom forcing her child to go eat ice cream.
But when he came home, he was right back in there having a blast. Julia came over too and they had the best time making up stories in his fort.
I just love it when our kids have so much fun being kids. Play is their work. And I want to do all I can as a mom to encourage my kids to keep building their imaginations and challenging their minds. Do you need convincing? Just read this article from the experts at Education.com, "What's the Case for Make Believe."
Cranium Super Fort wasn't the only great find that came out of this review for me. I am so excited to find Education.com. I am going to be using tons of their activities with my kids!
The next one I am going to do with Jackson is this Crack the Code! A Spelling Challenge. Jackson will have so much fun, he won't even realize that he is learning!
UPDATE: I was so excited about the Crack the Code! A Spelling Challenge that today for Jackson's play date I used the secret code game and made a treasure hunt with it. The boys had to crack the codes to find the next clues until they finally got to the "treasure" – a bag of microwave popcorn. (Jackson loves the microwave kind but I usually serve air popped. So for Jackson, microwave popcorn is exciting!)
The boys had a fantastic time, screaming with enthusiasm as they decoded each clue and then reached their treasure. What an easy, fun way to entertain six year old boys – and they were learning while they played. Thanks Education.com!