This post may contain affiliate links. Read my disclosure policy here.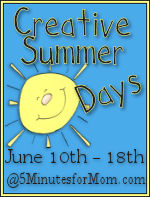 We live in a fairly rural collection of houses (certainly as compared to my Houston suburban upbringing with concrete cul-de-sacs and flat, straight streets). There are no shoulders on the road which is also curvy and hilly. So when I'm walking, I switch sides of the road often depending on where the greatest visibility is. For that reason, I don't let nine-year-old Amanda take off alone on her bike or on foot too much.
I'd like to, because I have all sorts of memories of my friend and I riding our bikes for hours. We played a game when we were a bit older (in junior high) called "try to get lost." We'd just take random turns until we ended back on a street that was familiar to us in our well-mapped out master planned suburban community.
As I posted in the Cell Phone Experiment, Amanda and I have been trying out a cell phone for Kajeet. What exactly does a cell phone have to do with Creative Summer Days? you might be wondering. Well, it's because of the security of the cell phone that I've allowed Amanda some freedom to either walk around the corner to see if her playmates our outside jumping on the trampoline, or to take the bike for a spin around the "block." Knowing that I could ring her pink flip phone (which is cooler than mine, by the way) if she's not back when I thought she'd be, allows me to set her free to test her wings of independence a bit.
Summer should be a time to explore–be it the backyard or the neighborhood. It troubles me that because of so much parental fear (or filled up and busy schedules) that kids aren't free to just be kids playing creatively and independently in the great outdoors.
Another optional feature that Kajeet offers is GPS tracking to help you know where your child really is. It could be invaluable for safety, and it could also be useful for a little snooping. I had never heard of this, but recently read

about the way the mom in Certain Girls used it to check up on her 13-year-old daughter. I like this aspect of safety as well.
Kajeet offers so many other benefits–you need to check their website out for yourself. It is a cell phone truly made for parents and kids. Each kid's account has a virtual wallet which allows you put in a certain amount of money each month. If they text 2 much, they are out of luck. What's even better is that you can override that feature to always let them send or receive calls from certain places (like home or your cell phone), so that even if they've used up their allotted minutes, they can still receive or make a call to you. You can also restrict calls from certain numbers. Depending on your child's age and level of responsibility, you can customize it as much as you want–allowing them more or less freedom as you deem appropriate.
Would you like the chance to win one of five fantastic packages from Kajeet? Tell us why you want to win the kid/parent-friendly cell phone from kajeet. Use these questions as a guideline: What is the number one reason you'd like your child to have a cell phone? How do you think that having a cell-phone would improve your child's or your family's sense of well-being? If you are one of the 5 winners selected (U.S. only) this is what you'll receive:
o 1 Sanyo Katana phone in various colors (pink, blue, black) – valued at $99 each

o $50 credit to be used towards talking, texting, ringtones, games, music, etc.

o 3 months' free GPS Locator service

o And, of course, the amazing kajeet service, which includes:

o ContactManager (determines who kids call/receive calls and texts from)

o TimeManager (prevents classroom, practice and dinnertime distractions)

o WalletManager (helps teach kids financial responsibility as well as helps your family stay on-budget)

o FeatureManager (determines which features should be used and at what capacities. Also includes Vault, which stores any downloaded content, regardless of whether it's deleted from the handheld device)
You can answer the question here in the comments or you can write your answer in your blog, and link it up here. If you blog about it, be sure to point your readers to this post, and then link up your post–not your main blog address–to this Mr. Linky.
You have until June 23 to post your response, either as a comment or a linked-up blog post (edit–please do not link to your blog unless you have put a post on there about it). They will be evaluated based on genuine need and desire for the product as well as creativity. The winners will be announced on June 24 with the others from Creative Summer Days.