This post may contain affiliate links. Read my disclosure policy here.
As we start off the New Year considering resolutions and challenging old habits, I thought Rachel's post on 5 Minutes for Faith was especially timely…
WHAT? How come I put the peanut butter on first?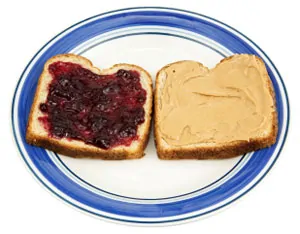 This morning, as I was making my son, Brennan, a sandwich, he looked up at me and asked me the peanut butter order question. As I stood there with a knife loaded with peanut butter, I didn't know what to say. I had never thought about why I put the peanut butter on before the jelly. I've just always done it that way.
So I told him that I didn't know and that's the way I always do it.
His response? "Maybe you could try to do the jelly first sometime?" My jaw dropped. Do the jelly first? How does that work?
Putting the peanut butter on first is a habit. Not only is it a habit, but it is one that I don't ever think about why I do it. Certainly in the scheme of life it's a very little thing, but my son's comments allowed me to ponder my choices and responses…
Continue Reading at 5 Minutes for Faith…