This post may contain affiliate links. Read my disclosure policy here.
Brooke White makes her acting debut in the new family movie, "Change of Plans", airing on FOX, January 8th at 8/7c.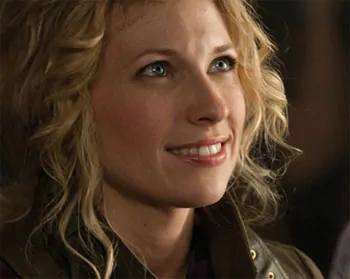 I first had the privilege of interviewing Brooke White in Chicago, during BlogHer 2009, while she was promoting her record, High Hopes and Heartbreak. Brooke is a true delight — talented, kind, and fun! I was blown away, not only by her beautiful voice, but her infectious warmth and charm.
This fall, when I had a chance to interview Brooke again, we weren't talking just music — we were talking movies! Yes, Brooke is now an actress, with her first on-screen role as Sally Danville, a carefree singer-songwriter who unexpectedly becomes a mother to four in "Change of Plans," P&G and Walmart's latest project for "Family Movie Night."
It is sincerely FUN spending time with Brooke White. Visiting with her is as comfortable as chatting with a good girlfriend. She is just lovely. (She is also TINY. I mean absolutely tiny.)
In our interview, Brooke shares about her insecurities and how she overcame them to act in her first on screen role.
In part 2 of our interview, Brooke discusses the family-centered theme of "Change of Plans."
Spending the day on the set of "Change of Plans" made me thoroughly excited to see the finished project.
Everyone was passionate and committed to the goal, which, according to Writer/Director John Kent Harrison, is to create content that is both GREAT, (high quality entertainment,) and GOOD, (based on positive message and values that parents are trying to teach their children.)
Here is a behind the scenes look on the set of "Change of Plans"…
I viewed "Change of Plans" this week, along with my nine year old son Jackson, and it did not disappoint! Jackson and I give it two thumbs up for sure! In fact, we hope it gets picked up as a series, so we can follow along with the Danvilles weekly!
And you can see it too — "Change of Plans" airs this Saturday night, January 8th at 8/7central on FOX.
In case you missed it earlier this week, you can read more about Change of Plans and ENTER TO WIN a Family Movie Night gift pack with three family movies!
P.S. Brooke White has a personal blog too! You can find her at Brookie Babble.
Please Note: Travel, accommodations, etc for the set visit, along with review and giveaway materials, were provided by P&G and Walmart. As always, my opinions are 100% my own.
Written by Janice Croze, co-founder of 5 Minutes for Mom. Talk with me: @5minutesformom and Facebook.com/5minutesformom.