This post may contain affiliate links. Read my disclosure policy here.

My husband and I have different opinions on playing sports in the house. He is against it. I am often for it.
We live in a very rainy city. When the weather keeps us inside and my kids are bouncing off the walls, I want them to get rid of some of that energy! So, some indoor sports are a must.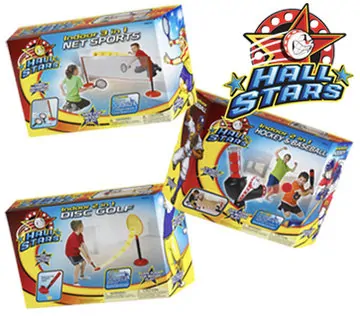 With the Hall Stars Indoor 2 in 1 Hockey & Baseball, (SRP $29.99) even my husband doesn't mind our kids playing ball in the house!
This 2-in-1 set comes with a battery-operated pitching and slap shot machine that shoots FOAM balls. The machine has 2 shooting modes: Rookie and Expert. So my son can swing the baseball bat as the machine pitches or get in goal with the hockey stick and practice his goalie moves! The shooter is light and an opponent can move and aim the machine to make it more challenging.
Hockey & Baseball set includes: Motorized ball shooter, 5 foam balls, 1 mini baseball bat with foam sweet spot, 1 mini hockey stick with foam blade. It requires 3 AA batteries which are sold separately.
It is a plastic and foam set — so it won't last forever. But while it does, both my kids and I can enjoy some safe indoor sports!
The Indoor Sports Junk Ball line also includes an Indoor 2 in 1 Disc Golf set and an Indoor 3 in 1 Net Sports set.
Get ready to play! We have a Hall Stars Indoor 2 in 1 Hockey & Baseball from Junk Ball for one of you! To enter, simply leave us a comment below!
This giveaway is part of our Christmas Giveaway 2010 event. If you haven't already, please be sure to visit our main Christmas Giveaway 2010 post to review our giveaway rules and to find out how to earn additional entries.
This giveaway is open to US and Canadian shipping addresses and closes on December 4th.This giveaway is void where prohibited. Please see our site's terms and conditions for our complete contest rules.
Thanks so much to Little Kids Inc. for providing a Hall Stars Indoor 2 in 1 Hockey & Baseball for review purposes, and for providing the prizing for this giveaway and our Under The Tree 2010 program! Receiving review samples never influences my opinions. My opinions are always my own!