This post may contain affiliate links. Read my disclosure policy here.
We just love the holiday season. It truly is the most wonderful time of the year. We are looking forward to the expressions of our little ones as they excitedly run to the tree on Christmas morning. We are already planning our holiday travel, looking forward to feasting with family and friends.
We can't wait for Christmas music and laughter to fill the room, as we reflect on the past year and take time to thank the Lord for all He has done.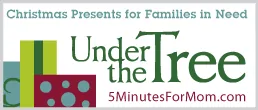 For some, this upcoming season might paint a different picture. There are many struggling this year. That is why we plan on sprinkling some Christmas hope and joy out into the community, helping families in need, with our third annual Under The Tree program here at 5 Minutes for Mom.
Under the Tree is about getting some of that Christmas magic (bloggy style!) right to some families who need it!
And here is how we do it — with your help of course. 🙂
We will choose several families to sponsor this Christmas.
The wonderful companies who are taking part in our Christmas Giveaway 2010 are donating items for our sponsored families.
So, in addition to providing prizes for our readers to win by commenting on the individual reviews, the companies participating in the Christmas Giveaway 2010 are providing presents to these selected families who are in need this Christmas.
We are so blessed to partner with such generous companies.
We know there is so much need out there, especially in these difficult economic times, but through Under the Tree, we hope we can share the spirit of Christmas and ease the burden from some families who just don't know how they will be able to provide presents for their children this Christmas.
How you can help?
If you know a family who will not be able to provide presents for their children this Christmas, please nominate them in the comments below or send a private email to us at info(at)5minutesformom(dot)com. You can also nominate your own family.
Please leave personal information, such as last names, out of your nomination, but do include the number and ages of the children.
It's going to be very tough narrowing the nominees down to just a few families. But due to the fact that we only have a limited number of gifts, we will have to make those hard decisions.
Since we do not want to disappoint anyone, please do not let the families know that you are nominating them. If we choose them, we will contact you to verify the details and then determine if the families want to accept the gifts.
Please note that we will also not post personal information about the families that we select. We'd like to keep it as private as possible.
We will do our best to match presents to children according to their age and gender, therefore the families we choose may be determined by the suitability of the gifts we have.
We will keep the nominations open until November 19th, 2010.

Please feel free to also post one of our Under The Tree buttons on your blog or site. Click here to get the button codes. We greatly appreciate you spreading the word and commenting here to show your support.
Your enthusiasm for Under the Tree and for the participating companies generosity helps pave the way for future projects!
THANK YOU for helping us transform these families' holiday season into a time of blessing and excitement!