This post may contain affiliate links. Read my disclosure policy here.

A tiny helicopter you can easily maneuver inside the house, zipping up, down and all around! Yes, when I first saw these little machines from Discovery Store I knew my son would go crazy for one. (Actually, I wanted to fly one too!)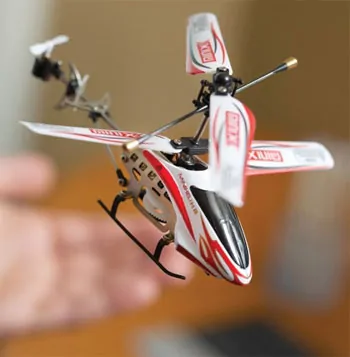 Metal Frame Micro RC Helicopter
The Metal Frame Micro RC Helicopter from the Discovery Store is the smallest Metal-frame helicopter on the market. It features a built-in gyroscope which makes it easy to control. (Well – I have no idea what a gyroscope is! But, the company says that makes it easy to control. So I guess that is what a gyroscope can do for a pint-sized helicopter!)

Fortunately the helicopter is rechargeable and features a lithium-polymer battery which takes 30-40 minutes to charge. It charges through its radio control unit and flies for about 8-12 minutes between charges. It isn't a long play time between charges. But hey — we are flying helicopters in the house! Very cool. So I guess I can't complain that the charge doesn't last long enough!
The Metal Frame Micro RC Helicopter is manufactured by hand with a durable metal frame. (I suppose it isn't very "boyish" to say that it is cute — but it so is!!!) I don't imagine it will last for too many months with my kids — but for the intended age range of 12 years and older, I am sure it will be quite durable.
The DiscoveryStore.com has so many fabulous and unique toys and games. It is the perfect place to check out if you are trying to come up with an enriching and fun gift!
Get ready to fly! We have a Metal Frame Micro RC Helicopter for one of you! To enter, simply leave us a comment below!
This giveaway is part of our Christmas Giveaway 2010 event. If you haven't already, please be sure to visit our main Christmas Giveaway 2010 post to review our giveaway rules and to find out how to earn additional entries.
This giveaway is open to US and Canadian shipping addresses and closes on December 4th.This giveaway is void where prohibited. Please see our site's terms and conditions for our complete contest rules.
Thanks so much to Discovery Store for providing a helicopter for review purposes, for providing the prizing for this giveaway, and for providing a MythBusters Science of Sports Kit for our Under The Tree 2010 program! Receiving review samples never influences my opinions. My opinions are always my own!