This post may contain affiliate links. Read my disclosure policy here.
Sophie discovers that nothing is as she first imagined. When Walt, the reporter who helped her over the border, shows up again after Guernica is bombed, Sophie is given an impossible mission. She must leave behind the man she's fallen in love with and return to the person who betrayed her. Another layer of the war in Spain is revealed as Sophie is drawn into the international espionage schemes that could turn the tide of the war and help protect the soldiers from the International Brigade … she must find a way to get a critical piece of information to Walt in time.
In A Shadow of Treason, Tricia Goyer continues the story of those who are involved in the Spanish Civil War (which she began in A Valley of Betrayal (see my review and interview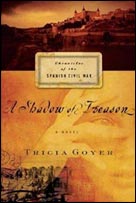 with the author here). As I have come to expect in her fiction, she portrays the effect that the culture and climate have on her characters. In this setting of war, the characters are forced to examine who they are, and for what they exist. The story is dramatic without being overdone, historically interesting without bogging the reader down with too many details, and personal without being sappy.
See more about this series and Tricia's other work–fiction and nonfiction–and view a trailer for A Shadow of Treason at TriciaGoyer.com.
We have two copies to giveaway to a U.S. or Canadian reader. Please leave a comment to win.
The winners of The Daring Book for Girls are
#97 Kristen
#139 Jenn in AZ
#49 Chondra