This post may contain affiliate links. Read my disclosure policy here.
We interrupt this lavish Christmas Giveaway to tell you about a great book, but keeping with the theme, we do have three copies to give away, and this book would make a great gift for any girl in your life between the ages of eight and fifteen.
I like to give books for gifts (and I like to receive books too), but unless a person is a real book lover, I think that a book given as a gift should be special in some way. One thing that makes a book special is its size–big (288 pages, 9 inches by 7 inches) and a cover that sparkles wouldn't hurt either. The Daring Book for Girls fits the bill on both counts. Andrea J. Buchanan and Miriam Peskowitz have written a book full of interesting stories, profiles, activities and essential skills and even a list of "books that will change your life" (since I like to buy and receive books, I'm a sucker for book lists).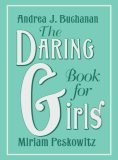 This book will bring back fond memories for moms as well, which is sure to spark connecting conversations** between mom and daughter. I know that when I saw the instructions for making a sit-upon, it brought me back to my days in Girl Scouts when I was the same age my daughter is now. The authors explain the generation gap in the introduction: "We were girls before the Web, cell phones, or even voice mail. More often than not, we did daring things like walk to school by ourselves. Babysit when we were still young enough to be babysat ourselves. Spent hours on our own, playing hopscotch or tetherball, or turning our suburban neighborhood into the perfect setting for covert ops and impromptu ball games." They also express concern that in addition to being cooler "girlhood today has become high-pressured and competitive, and girls are inducted into grownup-hood before their time." The Daring Book for Girls is a "book of possibilities and ideas for filling a day with adventure, imagination — and fun, if you dare."
If you'd like to win one of three copies (that can ship to the U.S. or Canada), please leave a comment here.
**Speaking of sparking conversations, Mary DeMuth, author of Ordinary Mom, Extraordinary God— which I've given many many times as a gift (full review here)–has a pdf download available of 150 conversation starters for families. You can see a sample and buy it for $5 at her site. These questions range from spiritual to thoughtful to silly and are appropriate for early grade school through the teen years.
Congratulations to the winners of last week's books on surviving the teen years:

The Teen Whisperer
#63, Kris

My Life Unscripted
#50, Shaun Wellner
#5, Beth at Sportsmomma