This post may contain affiliate links. Read my disclosure policy here.
Welcome to "5 Minutes for Books" – our newest column at 5 Minutes for Mom. Here we will feature both children's books and books for Mom, usually with a copy to giveaway.

At 5 Minutes for Mom, we love to review and giveaway books. So, we thought, why not organize it all into a regular weekly feature? To help us out with the new column, (Susan and I just don't have enough time to read and review all the books we want to!) we have enlisted the help of book lover and blogger, Jennifer Donovan, from Snapshot.

Jennifer, who is also one of our regular contributors at Faith Lifts, regularly reviews books on her blog Snapshot. So when I was thinking of bloggers to call on for this assignment, Jennifer immediately came to mind. Susan and I will still review books for "5 Minutes for Books," (we love reviewing books and can't give it up!) but Jennifer will be the main reviewer. Thanks Jennifer – we are looking forward to reading your thoughts, insights and opinions.
This week's review and contest: Ordinary Mom, Extraordinary God by Mary E. Demuth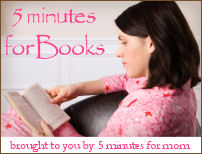 I am so pleased to introduce the new "5 Minutes for Books" column. Janice and Susan have made 5 Minutes for Mom a great resource for all sorts of products of interest to moms. When they decided to create a regular column about books and they asked me to help, I was thrilled. I couldn't wait to share my love of books with all of you here.
Even though I have an eight year old daughter who is in school and a three year old son who is home all day with me, I make time to read. I read for escape, losing myself in a great novel or memoir; I read for instruction, gleaning wisdom from other experts or moms like me about parenting and marriage and housekeeping; I read for encouragement, discovering others who have failed just as I have, but have lived to tell about it and to share secrets of their success.
Reading about others helps me to understand who I am. As I admire strengths in fictional heroines or real-life moms sharing their stories, I realize that I want to possess those strengths myself (and at times I realize that I already do.) I am also confronted with weaknesses that I want to change, and sometimes an example of how to do so.
In Ordinary Mom, Extraordinary God, Mary E. DeMuth shares her reflections on motherhood in exactly this way. Ordinary Mom, Extraordinary God meets all of the reasons I read that I listed above. It is simply the best book on motherhood that I've ever read. The subtitle is "encouragement to refresh your soul," and that it does. There is no 5 step plan to become a better mom or to transform you children into angels. This book is so effective because it speaks to moms, by offering personal thoughts about how we can: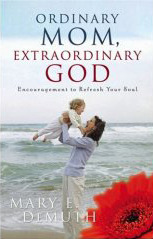 connect with other moms
stop the whining (and stop our whining)
seek forgiveness from our kids
offer it to them freely
learn from our children while trying to teach them
In almost every chapter, Mary shares how mothering helps her to understand God more or to lean on Him in the times that she fails. She writes honestly, with real-life, often humorous examples. Each of the 60 short chapters could easily be read as a devotional, but I dare you to stop at just one each day!
To underscore my appreciation of this book, let me tell you that I have ordered no less than five copies of this book. It's a favorite birthday gift for friends who are in the trenches of motherhood as I am.
You can read an excerpt from Ordinary Mom, Extraordinary God on her blog pioneer parenting. We will also host Mary for an interview in July coordinating with the release of her new book. You can keep up with Mary at her main blog, Relevant Prose.
And of course – one of you is going to win a copy of Ordinary Mom, Extraordinary God, generously donated by the author. We will draw a winner from the comments on this post and announce her name Monday, May 14th, at our next weekly installment of "5 Minutes for books." So make sure you leave your comment for your chance to win!
Also, to let us know what you want to hear about in the future, in the comments you can share what your favorite type of book to read is, or what kinds of books you would like more information on.
Every Monday, Janice, Susan, or I will be sharing a book recommendation or an author interview, and we will most often have a giveaway as well! Feel free to put the button in your sidebar to let your readers know that you are taking time for books, and that there are books to be won each Monday here at 5 Minutes for Mom. (If you want the code, go to read more at the end of this post.)
I look forward to enjoying our ordinary lives and extraordinary books together each week.
by
Jennifer Donovan
Snapshot
edited to add: Canadians may enter, but please remember that there may be duties or taxes you need to pay when the item crosses the border.
For the button code,
Banner Code: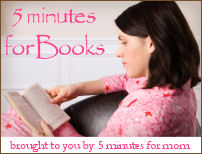 To include this button in your sidebar, copy and paste this code: