This post may contain affiliate links. Read my disclosure policy here.
Stephanie left her career as a lawyer 6 years ago to be home with her two children.
And like many of the moms we feature here at "5 Minutes for Mom", she decided to turn a problem into a product and add to her family's income.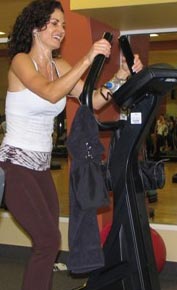 Stephanie liked to exercise at the gym, but she hated placing her towel on the dirty floor or having it fall off the machine and land on the dirty floor.
So she solved the problem and invented a product that is great for all women and men who like to exercise.
Introducing the Go4-It Towel… A magnetic exercise towel with detachable pocket. The towel sticks to all exercise equipment so you can keep it near you and off the germy floor.
The detachable pocket holds up to 2 lbs. of your personal valuables such as your keys, ipod, cell phone, money, jewelry, gym card, etc.
The pocket and magnet are removable so that you can easily toss the towel in your washing machine.
Although the inspiration for the towel came from exercising at a gym, the uses are far broader. Here's a few ideas of where the magnetic towel would come in handy:
Exercising on your own home gym equipment.
Playing tennis.
Shooting hoops at the basketball court.
Working on car repairs.
Jogging with your baby in a stroller.
And of course exercising at a public gym.
This clever invention makes a perfect Christmas gift. Visit http://www.goforitproducts.com to stock up and start checking names off your Christmas shopping list.
Stephanie is donating five Go4-It Towels for prizes in this Christmas Giveaway.
If you want to be one of the lucky five, all the instructions are in the Christmas Giveaway 2007 post (including the code to put our Christmas Giveaway button on your site.)
But here is the quick run through:
Leave a comment on this post to be entered.
Either post a link to this contest OR post a button linking to our Christmas Giveaway post. (If you post the button and link to the Christmas Giveaway, you are qualified to enter in all the upcoming Christmas Giveaway contests. And we have many more contests to come!) Non-bloggers are welcome too – we understand you can't link – but feel free to pass the word on to your friends.
(This giveaway is open to US shipping addresses only.)