This post may contain affiliate links. Read my disclosure policy here.
Have you entered all the giveaways yet?
All nineteen contests have now been added to this Christmas Giveaway Event. Entries will be closed at 10 pm Eastern Sunday, Nov 25th.
You must comment on each individual contest for which you want to be entered.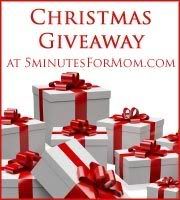 Have your kids started making their lists yet?
Luckily for me, my two (Julia and Sophia) are still too small to request specific gifts, but Janice's boy Jackson definitely knows that Christmas is coming and he's been analyzing the Toys R Us brochures and has already written up quite the Christmas list.
So we're getting in the holiday spirit and giving away extra goodies over the next few weeks.
This Christmas Giveaway 2007 will work the same way as our July 4th Giveaway.
From now until November 24th, we will be posting various contests. To enter the contests you just need to:
Add a comment on the contests you want to enter. PLEASE note: You need to enter each contest individually so we know who wants to be entered in what contest. So make sure you click over to each contest and leave your comment there.
Either link back to this post and include a Christmas Giveaway button in that post or on your sidebar (to get the code click on read more at the bottom of this post,) or link to the individual contests you choose to enter. (If you post and include the button, either in your post or on your sidebar, and link back here, you are good for all the contests. No more linking required.)
As always, non bloggers are welcome to participate! We know you can't link – but feel free to spread the word to your friends.
Some contests may be open to Canadians. Please check individual contests.
Click on each of the links below and comment on the contests you wish to enter:
PLEASE REMEMBER: You need to click over and comment on each contest you want to enter. We will be linking to all of the contests in this post and we need to know who wants to be entered in WHAT contest. Remember you can enter in as many of the contests as you want.
PLEASE NOTE: Entries for all contests will be closed Sunday, Nov 25th at 10pm Eastern and winners will be announced in the afternoon of Monday, Nov 26th.
Make sure you check back at "5 Minutes for Mom" on Monday, Nov 26th to see if you won a prize. We'll be emailing you as well and you will have one week to claim your prize. If we don't hear back from you, we'll have to give the prize to someone else.

Below is the code for the buttons (we have four sizes).
Banner Codes: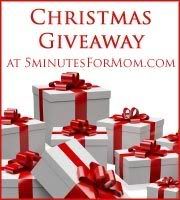 To include this large banner (180 by 200 pixels) in your post or sidebar, copy and paste this code:

To include this banner (180 by 140 pixels) in your post or sidebar, copy and paste this code: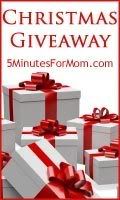 To include this banner (120 by 200 pixels) in your post or sidebar, copy and paste this code:

To include this banner (120 by 120 pixels) in your post or sidebar, copy and paste this code: